Business Mirror | 15 April 2014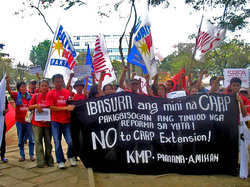 KMP Secretary-General Antonio Flores describes "First Pacific's acquisition of 34 percent of RHI as another concrete proof of CARP's failure."
Farmers hit land-use conversion in Nasugbu, Batangas, to avoid CARP
More 100 farmers, led by Sambat and KMP, picketed the Department of Agrarian Reform (DAR) in Quezon City on Monday to decry the acquisition of the Hong Kong-based First Pacific Co. Ltd. of 34 percent of Roxas Holdings Inc. (RHI).
The groups said the deal between the Pangilinan-led First Pacific Co. Ltd. and RHI is now leading to land-use conversion of portions of the more than 5,000-hectare Hacienda Roxas in Nasugbu, Batangas.
"We fear that First Pacific's entry in Roxas Holdings is bound to intensify real-estate speculation, hasten land-use conversion and cause the eviction of farmers from Hacienda Roxas," Sambat Secretary-General Agaton Bautista said.
Bautista said more than 5,000 hectares of Hacienda Roxas covering nine barangays were being eyed for land-use conversion by the Roxas family and was applied for exemption from coverage of the Comprehensive Agrarian Reform Program's (CARP).
Reports said that in November last year, First Pacific bought about 31 percent of RHI. A month later, it increased its stake in RHI to about 34 percent and shelled out about P2.47 billion by buying out other minority holders. Roxas and company sold up to 34 percent of its 66-percent stake in RHI for P2.23 billion at P8 per share.
KMP Secretary-General Antonio Flores described "First Pacific's acquisition of 34 percent of RHI as another concrete proof of CARP's failure."
"Despite the still unresolved agrarian dispute in Hacienda Roxas, big landlords and big businesses like MVP and the Roxases are obviously ganging up against farmers to evade land distribution by entering into so-called stock market and other business transactions," he said.
According to Flores, the practice and inclusion of lands as a financial instrument has led to widespread land-grabbing in the country courtesy of CARP.
The KMP is pushing for the enactment of House Bill 252, or the Genuine Agrarian Reform bill, which seeks the nationalization of all agricultural lands and the subsequent free distribution of lands to landless tillers.