ABC | 12 April 2014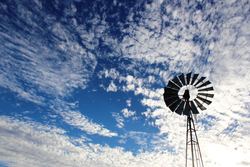 Trade Minister Andrew Robb says the $15 million Foreign Investment Review Board (FIRB) threshold on farmland will remain. (Photo: ABC News: Caddie Brain)
Rules for foreign investment in farmland 'won't change' despite free trade talks with China: Robb
By Jane Norman
Trade Minister Andrew Robb has assured his Coalition colleagues there will be no changes to foreign investment rules on farmland as part of a trade deal with China.
The Federal Government is hoping to clinch a free trade agreement (FTA) with China by the end of the year and Mr Robb has been in China with Prime Minister Tony Abbott, trying to accelerate negotiations.
Mr Robb has told the ABC he is not considering any change to the policy regarding farmland.
"The $15 million ceiling on farmland before it goes to the Foreign Investment Review Board (FIRB) is going to apply to all countries and I don't see this changing," he said.
However, he says the Government is willing to ease some restrictions on state-owned investors under a trade deal with China.
China wants Australia to relax the automatic scrutiny by the FIRB of all investment by state-owned and controlled enterprises, and the Government is considering the issue.
"It is a very important issue how we treat the state-owned enterprises (SOEs) in China," Mr Robb said.
"We want to properly recognise the role that many SOEs from China have already played as corporate citizens in Australia ... the jobs they've created, the investment that they've driven, the taxes that they've been responsible for, that have contributed to our quality of life.
"Those companies have got a strong record in Australia, and following the sorts of principles and approaches of typical private enterprise company, they should be considered in a different way than maybe the treatment of SOEs generally within our Foreign Investment Review Board process."
Mr Robb says Mr Abbott has floated some ideas with Chinese premier Li Keqiang to kickstart negotiations.
"We need to be a bit creative in how we do this," Mr Robb said.
"It really is how we treat SOEs in relationship to private enterprise companies."
Mr Robb says he wants to encourage international investment in greenfields projects, in northern Australia as well as other regions.
"There's many opportunities in other parts of the country in all sorts of industries for greenfields development," he said.
"We have to bring common sense and balance to these discussions if we are to capture the next round of unbelievable opportunities that are in prospect in China."