ERA | 8 April 2014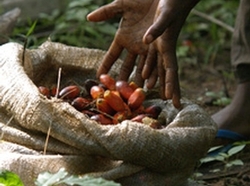 Stop corporate land bazaar in Edo State, ERA/FoEN cautions
The Environmental Rights Action/Friends of the Earth Nigeria (ERA/FoEN) has cautioned the Edo State Government from going ahead with plans to allocate 410,000 hectares of forest land belonging to community people to corporations without the consent of locals who depend on the lands for their livelihoods.
Companies that are to benefit from the land largesse include Okomu Oil Palm Plc (a member of the Socfin Group) which was previously allocated 30,000 hectares for oil palm expansion, the Dangote Group which is getting 50,000 hectares for rice production, and United Food Industries Ltd representing Indonesia's Salim Group, got 60,000 hectares. The Salim Group has track record of conflicts with community people in their various areas of operations especially in Indonesia and some parts of Africa.
In a widely publicized interview, The Edo State Commissioner for Agriculture, Abdul Oroh, disclosed that the state government had acquired 410,000 hectares of land in the state, for investments in agriculture by the private sector.
Oroh also revealed that 300,000 hectares had been set aside for other investors interested in farming activities.
With this development of an estimated 410,000 hectares, only 30,000 will be left for the over 170,000 local farmers in the communities who earn their livelihood from farmlands and forest resources.
In a statement issued in Benin city, ERA/FoEN said that it was unacceptable for the Edo state Government to shun the original landowners who have lived all their lives and depended on the forests for their sustenance and enter into deals with corporations to pave way for largescale monoculture plantations that only serve foreign interests. ERA/FoEN Executive Director, Godwin Ojo said: "This land bazaar is simply outrageous and unnaceptable. We will not sit back and watch as forest concessions including reserves and communal farmlands are taken over by transnational companies with the consent of the Edo state Government. We have said it time and again that plantations are major drivers of deforestation and biodiversity loss."
Ojo explained that the development is even more disturbing when viewed from the prism that the lands are shared out with reckless abandon for plantation cultivation without due process or free, prior and informed consent of community men, women and children who depend on forests and its resources for survival.
"This growing "corporate land grab" fuelling forest destruction in Edo state in the name of "development" is not for public good but for corporate selfish interest to enrich private pockets and further impoverish forest-dependent peoples."
According to him, the haste with which the lands expropriated from the locals and allocated to the companies raised doubt that proper Environmental Impact Assessment (EIA) was carried out, even as he added that most of the companies have track records of undermining the rights of communities and peoples they play host to.
He revealed that in communities bordering Iguobazuwa Forest Reserve where French Rubber Plantation giant -Michelin is operating and fronting as Rubber Estates Nigeria Limited (RENL) there are cases of human rights abuses like forceful eviction, servitude, hunger and starvation, among others and pointed out that other players of corporate land grab in Edo State include: PRESCO PLC in Ikpoba Okha Local Government Area of the State and Okomu Oil Palm Company PLC which already has as existing 15,578 hectares of its plantation at Udo, Ovia South West Local Government Area of Edo State, South-south Nigeria.
"ERA/FoEN is not against sincere, constructive, and a people-centered and friendly environmental practice for sustainable development. What we are against is the commodification of our forests, its resources and peoples for large-scale plantation expansion to serve the export market only. We demand the state government put a brake on this plan," Ojo insisted.