South China Morning Post | 6 April 2014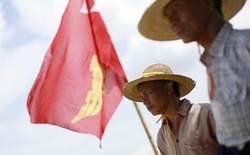 Myanmar farmers are far from happy with their lot. (Photo: AFP)
Ploughing protesters highlight land grab grievances in Myanmar
by Vincent MacIsaac in Yangon
Myanmar's swift economic development has been marked by the rise of a new class of political dissidents: the ploughing protesters.
They are farmers and activists angry that developers have snatched away farmland, rights groups say.
Five farmers were arrested on January 2 for trespassing on land they had been farming for decades - the day after President Thein Sein announced on national radio that all of Myanmar's political prisoners had been freed, said Nay Myo Zin, a former military captain who runs the Yangon-based charity Myanmar Social Development Network.
The farmers had staged a ploughing protest, tilling land - some with oxen - that had been theirs until it was confiscated by an agribusiness, the men's relatives said.
The five men from Irrawaddy region's Maung Mya district were tried, sentenced and jailed on the same day, their relatives said.
A government spokesman could not be reached for comment.
Nay Myo Zin, who himself has twice been jailed since the president took office, said thousands of farmers embroiled in land disputes were facing similar charges nationwide. More than 230 had been jailed in Irrawaddy region alone, he said. Most were convicted of trespassing or violating a 2012 law that ordered jail time if someone did not obtain a permit before holding a public demonstration, he said.
Farmers' rights activist Htin Kyaw, a former political prisoner, was jailed twice last year after he organised a protest against land grabs, rights groups reported. He was freed on December 11 in a presidential amnesty, but was arrested and jailed again on sedition charges on the same day, they reported.
Almost half the 41 political prisoners released in the December 11 amnesty, the 14th since Thein Sein took office, had been detained under his government, according to the Hong Kong-based Asian Human Rights Commission. "Despite the extensive political changes taking place in Burma, many old habits are continuing under new guises," the regional watchdog added.
Authorities released Htin Kyaw again in the December presidential amnesty, but he still faces charges in at least five townships of Yangon for protesting, local media reports say. He has been walking alone through townships announcing his opposition to the protest law with a megaphone, and standing outside court buildings holding placards denouncing it.
Authorities arrested eight land-rights activists in February, according to the Assistance Association of Political Prisoners. Four faced charges for protesting against an alleged land grab in Mandalay region, three over a protest in Yangon and one over a protest against the controversial China-backed Latpadaung copper mine in Sagaing region.
Four members of the 88 Generation group were sentenced to up to six months in prison for opposing the protest law, it said.
The government amended the law in February, cutting maximum prison sentences from one year to six months. Rights groups, however, want the law to be repealed.
"It is positive that authorities have shown a willingness to reform the law, but reform is meaningless if the same people are still at risk of being locked up and harassed for speaking out peacefully," Amnesty International said.