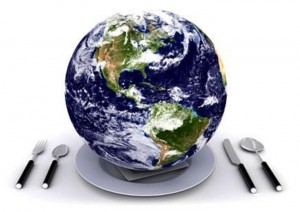 Emirates Business 24/7 | 28 April 2008
By VM Sathish
The worldwide shortage of food grains coupled with high food prices is driving leading food companies and investors from the UAE to Pakistan in search of lucrative deals in the agriculture sector in of one of the world's major food exporters.
With the entire world passing through an era of record food prices, and an acute food shortage predicted in the near future, leading Gulf investors are planning joint ventures and direct investments in Pakistan's farm and livestock sectors.
Big UAE companies are also planning to develop their own farms for wheat, rice, sugar, cotton, fruits and vegetables in Pakistan, said Bilal Pasha, Commercial Consul at the Pakistan Consulate in Dubai.
Speaking to Emirates Business, Pasha said: "A few big companies from the UAE have shown keen interest in setting up big corporate farms in Pakistan. Big food traders and manufacturers from the UAE, such as Al Ghurair Group, Emirates Investment Group, Effco from Sharjah and Majid Al Futtaim (MAF) Group, are going to play a vital role in Pakistan's agricultural field. Some dairy companies from the UAE and Saudi Arabia are also setting up big diary farms in Pakistan."
Companies from Qatar and other Middle Eastern countries are also keen to invest in agro-industries in Pakistan, he added.
MAF is setting up two shopping malls in Pakistan and the group is also keen to procure most of the fruits and vegetables required for its GCC shopping malls from Pakistan, Pasha said. "The top three private equity investors from the UAE are negotiating for big investments in Pakistan's agricultural sectors," he added, without naming the firms.
He said provincial governments own the land in Pakistan and can grant 100 per cent ownership to foreign investors. The required minimum size of a "corporate" farm is two acres and the minimum investment is $500,000 (Dh1.8 million).
While Pakistan has received a substantial share of GCC investments in financial services, telecom and real estate, co-operating in the agriculture and dairy fields will be a win-win situation for both parties. Pakistan has some of the highest returns in the sector and the GCC imports 90 per cent of its agricultural and dairy needs, Pasha said. The Pakistani Government is keen to promote production to face food shortages and to boost exports from the country.
The Pakistan Consulate and Market Access Promotion (MAP) Services Group from Bahrain are jointly organising the Middle East-Pakistan Agriculture and Dairy Investment Forum in Dubai on Tuesday.
About 30 leading Pakistani agricultural and diary companies will be participating in the forum and meet their UAE counterparts to negotiate joint venture projects in the agricultural and diary sectors.
According to Map, Pakistan's agricultural sector grew by 4.6 per cent in 2006, compared to 3.1 per cent growth in India and Malaysia. Map also said return on investment in some dairy and agricultural products in Pakistan is the best not only in the region but also worldwide.
Government officials from Sindh and Punjab, two major agricultural provinces of Pakistan, the Pakistan Investment Board and other officials will also interact with representatives of the Gulf Financial institutions and private equity fund managers. According to Pasha, Pakistan is the world's largest producer of oranges. It is the fifth largest producer of milk and has the worlds third highest livestock count.
It ranks in the top five producers in the world of mangoes and dates. Additionally, crops such as cotton, rice and sugar have earned, directly or indirectly, more than 70 per cent of the total national export income.
Asia's second largest milk processing factory has been set up in Pakistan by Nestlé.
Nestlé aims to invest rupees 50bn (Dh2.8bn) in the country by 2014.
Tetra Pak Pakistan, too, is a major investor in the country's agricultural sector.
---