Reuters | 1 April 2014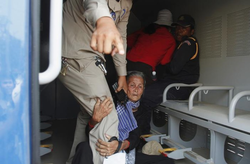 An elderly woman grabs the leg of a police officer as residents of Boeung Kak Lake community are arrested during a protest in Phnom Penh against a real estate development firm, March 13, 2013. In the first three months of 2014 alone, government land seizures affected more than 2,200 families in the 12 provinces monitored by LICADHO, one of Cambodia's oldest human rights groups (Photo: REUTERS/Samrang Pring)
State-backed land grabs affect half million Cambodians – rights group
by Thin Lei Win
BANGKOK (Thomson Reuters Foundation) – Half a million Cambodians have been evicted from their land since 2000 or risk eviction because the government's failure to create legal land titles enables it to expel smallholders and lease swathes of land to well-connected companies, the human rights group LICADHO said on Tuesday.
In the first three months of 2014 alone, government land seizures affected more than 2,200 families in the 12 provinces it monitors, LICADHO, one of Cambodia's oldest human rights groups, said in a statement. It also released a map illustrating the rapid growth of seizures of land by government and companies over the past 13 years.
"The government must act now to end this epidemic of land grabbing," LICADHO Director Naly Pilorge said in a statement. "These latest figures are shocking… a truly shameful milestone," she said.
"Each number represents a potentially ruined life, an individual who faces severe and long-term hardship. Without land, they no longer have the means to provide themselves with the basic requirements for a decent life," she added.
The question of land ownership is a serious problem in Cambodia, where the Khmer Rouge leadership destroyed legal documents and abolished private property in the 1970s during their attempt to create an agrarian communist state.
The present government has begun re-establishing a land register, but an estimated 80 percent of households today have no land titles, leaving them vulnerable to land grabbing by companies with powerful political connections.
Cambodia has a population of 14 million in 24 provinces.
LAND WOES
In the absence of land titles, the government has been leasing large plots of land, known as economic land concessions (ELCs), to companies, removing people who were living there.
By December 2012, around 2.6 million hectares of land – nearly 75 percent of Cambodia's total arable land – had been leased for ELCs, according to a report released in September 2013.
A government directive in May 2012 suspended the granting of new ELCs and ordered a systematic review of existing concessions, but land grabbing and land conflicts have continued unabated, rights activists say.
"To some degree, the government has responded to criticisms about land grabbing by making empty promises every year and establishing a land titling project with military volunteers," Pilorge told Thomson Reuters Foundation via e-mail.
But this has not addressed land conflicts and evictions affecting vulnerable Cambodians, she said.
Other activists have also criticised the land titling project, financed by long-serving Prime Minister Hun Sen and the ruling Cambodian People's Party (CPP), as lacking transparency and accountability. They say it is being conducted in a bullying manner and could result in thousands being thrown off their land.
"Furthermore, there are no meaningful consultations with communities affected by land grabbing and development of companies protected by government," she added.
Cambodia is also experiencing its biggest political upheaval in years.
The CPP won a general election last July, but the opposition alleged the poll was fraudulent and has challenged the government over an unprecedented number of issues, ranging from factory wages and graft to land grabs.