GhanaWeb | 1 April 2014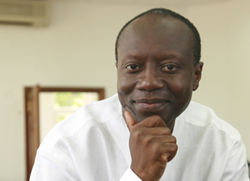 Chairman of the Board of Directors of Databank, Mr Ken Ofori-Atta. His Ghana-based Databank Africa Agriculture Fund already has investments in farms in Zimbabwe and Cameroon, a fertiliser plant in Madagascar, a beverage company in Zambia and a bakery in Nigeria.
Databank's fund targets agric projects across Africa
Databank Financial Services Ltd, an investment bank in the country, has established a private equity fund, Databank Africa Agriculture Fund (AAF), to finance agricultural activities across Africa.
The fund, which Databank officials describe as a small and medium scale investment fund, was capitalised with US$30 million. The investment has this year added another US$6 million to the pan African fund.
The Chairman of the Board of Director of Databank, Mr Ken Ofori-Atta, who disclosed this to the GRAPHIC BUSINESS on March 20, after announcing management changes at the Group, said the fund invested between US$250,000 and US$4 million in each country at a time.
The changes involve the current Databank Group Chief Executive, Mr Keli Gadzekpo, stepping aside at the end of May this year to take up a new role as the Chief Executive of Enterprise Group, a listed company.
Mr Gadzekpo, a co-founder of the Group, who will remain a member of the Databank Group's board, still chaired by co-founder Mr Ken Ofori-Atta, would be replaced by Mr Kojo Addae-Mensah who is currently the Chief Operations Manager of the Ghana Commercial Bank (GCB).
The departure of the Databank Group CEO marks a critical stage in the investment banking group's life cycle, coming barely two years after its resignation of its executive Chairman and co-founder, Mr Ken Ofori-Atta.
According to them, it fulfils their long-held dream to allow younger generation to be at the helm of affairs as it was when they started the company some 25 years ago.
Currently, the AAF has investments in farms in Zimbabwe and Cameroon, a fertiliser plant in Madagascar, a beverage company in Zambia and a bakery in Nigeria. It invests up to US$4 million in each country. Mr Ofori-Atta said the fund was also looking at a poultry farm in Burkina Faso.
Why the investments
Databank chairman explained that the investments were based on due diligence which indicated prospects and some level of skills set that the entrepreneurs had.
Poultry, for instance, had a good market in Burkina Faso and the entrepreneur had good expertise already with a bit of capital and technical support.
In Nigeria, a bakery with a capacity of 30,000 loafs a day to a city, such as Lagos which has 20 million residents, has worthwhile investment to deserve the fund's attention.
He added that the fund was also looking at some investments in Ghana, having about US$10 million of its capital intact.
Eleni, a private company positioned as commodity exchange promoter in Africa, announced that Databank was part of a consortium to support the Ghana Commodity Exchange (GCX) which uses the warehouse receipt system. Mr Ofori-Atta confirmed the news, saying he attended the initial meeting of the consortium.
"Agriculture is important and we can do all that we want but if we don't tackle agric and add value, we stand the chance of losing out," the Databank chairman, who resigned as the group CEO a couple of years ago, said.
Mr Ofori-Atta explained that although the funds' investments had tended to centre on activities outside of Ghana, it was a deliberate attempt to first tackle the difficult side of investing across Africa before looking to its home market, a turf they were familiar with.
"It is also to make the fund pan-African in character in line with its purpose, saying it is very difficult to do things outside and it is important to let people know that we are pan-African," the chairman of Databank said.
Africa, with the help of the UNDP and the private sector is already implementing the AGRA in selected African countries, including Ghana and Kenya.
The private sector, mainly through financial institutions are supporting the Kofi Annan-chaired initiative with initial capital of US$25 million to improve productivity in the agricultural value chain, including interventions to improve yields, soil fertility, husbandry, processing, marketing and improving the policy and regulatory framework in the selected countries.
New targets
One of the things that Mr Addae-Mensah will push will be to increase the current 65 per cent share of the mutual funds market. He must also work to bite about a quarter of total assets under management in the country, from the group's current market share of between 10 per cent and 15 per cent.
The new leadership will also complete Databank's negotiations to acquire a savings and loans company to provide a leverage for its investors in mutual funds and other assets the company manages.
The savings and loans company will enable the company to use funds of individual investors as collateral for loans from it. "This is a push to give more value to our clients," Mr Ofori-Atta stated.