Financial Review | 24 March 2014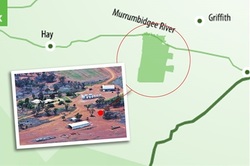 Twynam's Gundaline sold to Southern Ag
by MATTHEW CRANSTON
SOUTHERN Agricultural Resources Limited – a fund backed by overseas investors – has purchased Twynam Group's Gundaline Station in the NSW Riverina for about $25 million.
The purchase reflects the bullish appetite for farms in the Riverina based on the expected increase in yields from converting the properties to cotton ­production.
Southern Agricultural Resources, whose directors include Derek Shaw – a board member of the AIM listed MP Evans Limited and the North Australian Pastoral Company – had identified 24 properties to be purchased covering more than 100,000 hectares in NSW and Queensland.
Gundaline at Carrathool covers almost 15,000 hectares of developed irrigation and grazing land.
The property, which has frontage to the Murrumbidgee River, was placed on the market in 2011 and holds some of the Riverina's largest water entitlements. It is the last of Twynam Group's major farms to be sold after its owners, the Kahlbetzer family, took a step back from Australian farming.
For Southern Agricultural Re­sour­ces the purchase indicates the fund has raised part of the target $400 million it was intending to build up for farm ­purchases.
The fund's chairman David Montgomery was unavailable for comment.
The purchase follows increased activity in the area including most recently listed company Tandou's $33.2 million part purchase of Ravensworth Farm near Hay. The area started to show signs of life in 2012 when one of Australia's richest graziers, Tom Brinkworth, bought the iconic Uardry sheep stud not far from Twynam's Gundaline.
Valuers such as Colliers International's Tim Jelbart said he had noticed more activity in the area.
"A lot of corporates and international funds are looking to invest here," Mr Jelbart said.
"It is easier to acquire large parcels of water here compared to markets in the north of the state." His records indicate that developed irrigation land ex­cluding water entitlements is worth about $1750 per hectare.
"I think [pricing] has moved forward a little bit because the big thing about the Riverina now is that the land is cheaper compared to northern NSW and Queensland.
"I think the yields are still below what you would get in the northern part of the state but they nowhere near reflective of the capital cost of the farms," Mr Jelbart said.