NAN | 30 March 2014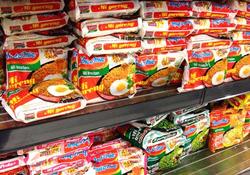 The Edo State Government says 60,000 ha in the State have been acquired for oil palm by instant noodle maker United Food Industries Ltd of Indonesia's Salim Group.
Edo govt acquires 410,000 hectares for private agricultural investments
The Edo Government says it has acquired 410,000 hectares of land in the state, for investments in agriculture by the private sector.
The state Commissioner for Agriculture, Mr Abdul Oroh, disclosed this in Benin on Sunday, in an interview with the News Agency of Nigeria (NAN).
Oroh said that 50,000 hectares of the land had been set aside for the cultivation of rice by the Dangote Group, while 60,000 hectares was acquired for the cultivation of oil palm by the United Food Industries Limited, makers of Indomie noodles.
He said 300,000 hectares had been kept for other investors interested in farming activities, adding that the land had been mapped out to facilitate the commencement of the projects.
The commissioner said that the present administration in the state had transformed agriculture and developed agro-service centres, to ensure that farmers accessed improved seedlings, tractors and loans.
He said that the ministry had also evolved schemes aimed at encouraging the establishment of Small and Medium Enterprises (SMEs).
Oroh, said that land had also been allocated to youths interested in agricultural activities, saying that measures had been put in place to ensure proper use of such land.
According to him, no fewer than 3,000 youths have been trained by the ministry in various skills.
He said that the state government had concluded plans to assist farmers in the state to benefit from the Growth Enhancement Scheme (GES) of the Federal Ministry of Agriculture.
Oroh said that last year, 120,000 farmers in the state registered under the scheme, adding that the number had increased to 170,000 this year. (NAN)