Interfax | 28 March 2014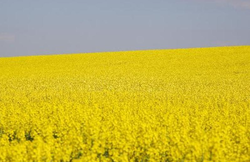 Up for sale? Agrokultura's rapeseed farm in Lviv, Ukraine.
Sweden's Agrokultura sees net loss grow 160% in 2013
KYIV. March 28 (Interfax) - Sweden's Agrokultura AB, previously Alpcot Agro and the owner and operator of farmland with agricultural operations in Russia and Ukraine, saw its net loss rise by 160% in 2013 to 262 million Swedish kronor, according to a company report.
Last year its revenues fell by 8%, to 617 million kronor amid falling prices for agricultural products.
In 2013, the company saw negative earnings before taxes, depreciation, and amortization (EBITDA) of 129 million kronor versus positive EBITDA in 2012 of 29 million kronor.
The group's total debt as of end-2013 came to 167 million kronor compared to 162 million kronor in 2012.
Agrokultura said that its weighted average yields were 34% in Russia and 11% in Ukraine. The company is considering selling its business in Ukraine in whole or in part.
In July 2013, Agrokultura AB said that the company as part of the land bank rationalization in Ukraine would reduce its land bank by 24,800 hectares to about 65,000 hectares. According to Agrokultura's calculations, the sale of its lands assets would allow the company to save $1.6 million per year.
Swedish agricultural company Alpcot Agro was registered in 2006, and renamed Agrokultura AB in May 2013.