The Australian | 27 March 2014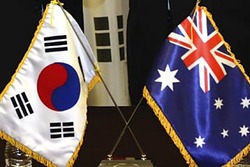 Asian investors 'face more scrutiny' on farm deals, says Fitzgibbon
by DAMON KITNEY AND ANDREW WHITE
A FRESH row has erupted over foreign investment in the rural industry after opposition agriculture spokesman Joel Fitzgibbon yesterday accused the Abbott government of favouring US and European investors over those from Asian nations.
Addressing the second Global Food Forum in Sydney yesterday, Mr Fitzgibbon questioned why state-owned enterprises from China, Japan and Korea were still required to submit their investment proposals for Foreign Investment Review Board approval, when investors from the US could spend up to $1 billion without similar scrutiny.
"The competition for global capital is intense and I grow concerned that we're telling South Korea and potentially our other Asian nations that while the US has to spend $1bn before it's necessary to go before the Foreign Investment Review Board, the Koreans, the Japanese and the Chinese by contrast will have to go before FIRB, which can be a very, very significant disincentive if they're spending, say, a quarter of a billion dollars," Mr Fitzgibbon said.
"So that is a big difference, and I just fear that it sends all the wrong signals, and at some stage we're going to be asked, on what basis are we producing one rule for some countries and another rule for others."
His comments come as concerns are reportedly rising in the Coalition that a Japan free trade agreement will not deliver "commercial" tariff concessions to beef and dairy farmers.
Mr Fitzgibbon said any moves to carve out agriculture from free trade agreements sent "a signal to the rest of the world that we have one rule for the Americans and another rule for the Asians. It's absolutely the wrong signal."
Tony Abbott will lead a high-powered delegation of business people and state and federal government officials to Japan and China at the end of next week as the government looks to conclude trade agreements with both countries. The deal struck with South Korea last month created a second tier of free trade agreements as it was the first to include new, lower thresholds for agricultural investment sought by the Nationals ahead of the election.
The value above which Korean purchases will attract scrutiny from FIRB has been cut from $53 million to $15m for farm land, and from $248m to $53m for agribusiness.
Trade and Investment Minister Andrew Robb said he would also take those new thresholds into free trade negotiations with China and Japan, in line with promises made in the federal election last year to calm concerns about growing foreign interest in Australian food and fibre production.
But Australia would not seek to impose the new lower thresholds on the US and New Zealand, which have longstanding free trade agreements with Australia that contain higher investment review thresholds.
Agriculture Minister Barnaby Joyce yesterday said South Korea was comfortable with the terms of a landmark free trade agreement struck earlier this year.
"Korea were quite happy with our position on investment rules. They're quite happy, and we got an exceptionally good deal there," Mr Joyce said.
He was also forced to again defend the government's decision to knock back global agribusiness giant Archer Daniels Midland's $3 billion bid for GrainCorp late last year, after Mr Fitzgibbon said people "still don't know what the rules are".
Mr Joyce described the GrainCorp decision as a one-off, and agreed that there needed to be more foreign investment — especially from China — in the agricultural sector.
However, he did not comment further on the issue.
Leading businesspeople at the forum said the GrainCorp decision and the debate over foreign investment were having other worrying implications.
"People hear that debate and they wonder what level of support they will get if they want to invest here," Coles managing director Ian McLeod said.
Using the example of a foreign supplier that was weighing up between investing in Australia and New Zealand and looking more favourably on the latter, he said the company had expressed a number of concerns about Australia's high-cost environment and the debate over foreign investment.
"There will be numerous companies thinking in these terms," Mr McLeod said, adding: "We have a massive opportunity. The country itself needs to embrace change, not resist it.
"What is important is taking a longer-term view. The efficiency within Australia is going to have to be developed to ensure we can compete on the global stage."
Macquarie Agricultural Funds Management co-head Tim Hornibrook said xenophobia about foreign investment remained an obstacle, despite Australian products still managing to be priced on a global basis.
"We started trying to raise capital out of Australia but gave up. We need to get over the xenophobia about bringing in offshore capital," Mr Hornibrook said.
His comments were backed by Simplot Australia managing director Terry O'Brien, who said the government's decision to block the ADM bid for GrainCorp "certainly got mentioned in the US".
"Our company just wants to be welcomed here and be loved. But if they don't feel the country is welcoming they start to look elsewhere," Mr O'Brien said, noting Simplot Australia was competing for capital from its US parent with big growth regions like China and South America.
"They are saying until we see a bit more stability and a bit more welcoming attitude from the regulators, etc, in Australia, then it makes them reluctant to put that money up.
"The scale thing is a real issue as well. It is really important for us to sell in both the domestic market and the export market."