Capital | 26 March 2014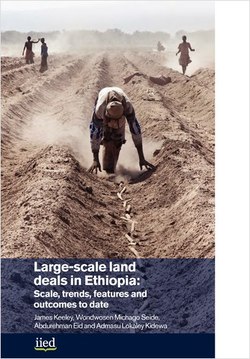 Large land deals reportedly fruitless
By Muluken Yewondwossen
A new report by the International Institute for Environment and Development entitled "
Large-scale land deals In Ethiopia: scale, trends, features and outcomes to date
," states that allocating land to investors has not shown a lot of benefits.
"Ethiopian government representatives at both regional and federal level acknowledge that, while considerable amounts of land have been allocated to investors, performance to date in terms of production, employment, and development of land has been disappointing for the most part," the report reads.
The report states that according to the Ministry of Agriculture, of 2.2 million hectares of land allocated only 17.6 percent has been developed.
There are several reasons why land is not developed as expected. According to the report these include: high costs and difficulty of developing land, security issues, poor capacity of investors, misuse of investment licenses and limited monitoring and evaluation capacity.
The report states that the Ethiopian Government has leased at least one million hectares of land for agricultural investments over the period from 01 January 2005 to 31 August 2012. This includes around 380,000 ha from the federal land bank, managed by the Ministry of Agriculture; 335,000 ha by regional governments; and 335,000 ha for state-run sugar plantations.
Land deals promise to contribute to improved food security, but the report suggests that in some cases that may not be the case.
"If people directly lose their land without compensation or adequate resettlement, including access to productive resources, they will likely be worse off and more food insecure. Where there is a loss of access to resources that are important parts of livelihood systems and coping mechanisms, such as forests, rangelands, and water resources, there are clear risks of pockets of greater food insecurity at the local level," the report reads.
When it comes to the responsibility of allocating land, the report underlines that there is a lot of confusion with the exact boundary between regional and federal responsibilities. This is because a land deal previously agreed by a regional government was again revised by the federal government.
One case in point is an Indian agribusiness firm that was allocated 300,000 ha by the Gambella regional government in 2008 was subsequently reduced to 100,000 ha by the federal government.
The report also states that there needs to be a better information sharing system between the central government and the regional governments.
"There did appear to be some joint monitoring between federal and regional governments but federal officials seemed to go directly to the woreda government on occasion, bypassing the regional government. This lack of awareness in the region is problematic in terms of good development planning or strong regional ownership of agricultural development activities," the report reads.
The report also says that there isn't a lot of information regarding what is being produced on the massive lands that are being allocated for investors.
It states that much of the data only indicates the land use is a crop production, as opposed to livestock, without specifying categories of crops or particular crops. Sometimes data indicates that several crops are grown and the relative amounts are unclear.