This Day | 24 March 2014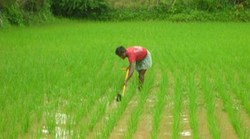 Olam's Nigerian subsidiary has completed arrangements to expand its rice plantation in Nasarawa State from 3,000 ha to 6,000 ha.
Olam boosts rice farming
By Crusoe Osagie
Local rice farming in the country is set to receive a major boost, following the completion of arrangements by Olam Nigeria Limited to cultivate 6000 hectares of land for low land rice cultivation through irrigation in its expansive rice farm in Nasarawa State.
Already, 3000 hectares of land had been cultivated by the company as at last December, which would be harvested between March and April this year.
The Farm Manager, Mr. Reji George, said the unique thing about the farm is that it is a green field project embarked upon by Olam Farms as a commercial rice project, and it is believed that the project when fully activated would help to reduce the pressure the country faces in terms of rice importation, which has been gulping huge funds.
According to George, "the broad plan was to cultivate 6000 hectares. We have been cultivating these areas and this would be the third farm cycle and by July we would cultivate 4,600 hectares. We intend to have full land development by 2015 in which we would have 6000hct of rice farmland fully cultivated through water irrigation."
On the Ban of rice importation, he noted that this may not be the right time to do it, despite the fact that his company's activity would tremendously help to ameliorate the challenges of total dependence on rice imprtation.
" I believe it should be a gradual process. Before you ban rice or any agricultural commodity, you must have to develop the local strength of rice production," he noted.
He said the federal government is doing a lot in transforming the sector, especially against the background that other countries have achieved a reasonable level of internal dependence on rice cultivation, saying there is no reason Nigerian should not do the same.
He pointed out that the country has the potentials, in terms of arable land suitable for rice cultivation, the right kind of population and increasing investments in the agriculture sector.
"Through the Growth Enhancement Scheme (GES), other developed countries have achieved great feats in rice production, and I believe if Nigeria continue like this, we should be self-sufficient in rice production in no time," he stressed.
Giving more insight on the issue of ban on rice importation, George said: "If you plan the ban of imported of rice, companies like Olam that are into commercial production of rice with 6000 hectares in two cycles would definitely help bridge the demand and supply gap. With support from other companies, in addition to the role government is playing, in few years we would be able to bridge the demand and supply gap and we would be self-sufficient in rice production."
He added that before going for the complete ban of rice importation, government should also put into consideration the amount of investment private investors are willing to put into local agriculture and more prominence should be given to this so that the government can attract more private investors into the sector.
He disclosed that $70 million had been expended on the Olam project, and they may expand when the mill is fully functional, disclosing that the mill would be fully operational by June 1.
He explained that the mill would be able to produce rice that can favourably compete with imported rice, adding that Nigeria has a huge market potential for rice, so getting market for the milled rice would not be a problem, adding that more than 1000 people are employed on the farm on daily basis and more than 90 percent of them are indigenes of the community.
He hinted that when the project is completed, the company will mill 75,000 metric tonnes of paddy rice. He also disclosed that it will commission 3000 out growers within and outside Nassarawa State to produce 20,000 metric tonnes paddy rice by May 15.
He commended the federal government's GES program, adding that the farmers are benefiting from the programmee through the provision of quality seedlings and fertilisers.