Daily Newswatch | 23 September 2013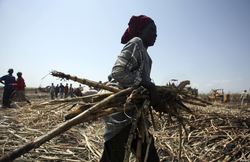 A laborer gathers sugarcane at a commercial farmland in Numan community, Adamawa state, northeast of Nigeria, Nov. 2009. (Photo: Reuters)
Confluence Sugar partners Big Group on N77bn project
By: BOLDWIN ANUGWARA
Confluence Sugar Company Limited has signed a contract with BIG Group to Build Operate and Manage a N77 billion ($510mn) Sugar plantation and factory in Ibaji, Kogi State. The Project which was initially commissioned in 2009 did not take off until 2011 at a ground –breaking ceremony under the administration of Gov. Ibrahim Idris.
Confluence Sugar is a product of a partnership between International Trans Oil USA, a Houston based Oil & Gas co. and International Trans oil Nig Ltd. which was commissioned by the state government to build, operate and manage a sugar factory to be located on 32,000 hectares of land in Ibaji, Kogi state.
KogI State Government owns 20 percent stake in the project while ITO owns the remaining 80 percent.
BIG Group is a Nigerian firm with Ukranian partners having offices in the USA and Ukraine. The firm will be responsible for the management of the project from conceptualization to delivery.
According to the Managing Director of Confluence Sugar Co. (Nig.) Mr. Olufemi Amos, "This project is a laudable project with immense benefits to both the Kogi State Government and Nigeria as a whole. This project will not only put the state government on the world map as an attractive place for foreign investment but also provide an avenue for wealth creation and employment for the indigenes through the proposed out-grower scheme from the project and other associated opportunities".
Speaking further he said, "we are proud to partner with Kogi State Government in this laudable project and are very grateful for the support of the government particularly Governor Ibrahim Idris and the Special Adviser to the state government on Investment, Alhaji Yusuf Alli who both shared and believed in the vision of the project owners and saw the immense and unquantifiable benefit the project would bring to the state."
In 2012, the National Sugar Development Council came up with a National Sugar Master Plan in which Federal Government placed a ban on the importation of sugar from 2015. In 2013, the NSDC in collaboration with the Federal Ministry of Trade and Commerce initiated the backward integration plan with the major players in the Sugar industry namely Dangote, Bua and Flour Mills. This plan effectively makes the production of Sugar 100 percent local from planting to refining.
Confluence Sugar has taken a bold step in this direction and is poised to actualize the government's plan on the indigenization of Sugar production to save the government billions of dollars annually.