The Straits Times | 12 March 2014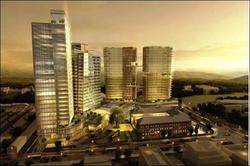 Real estate developer Yoma Strategic Holdings is ramping up its push into Myanmar, including in agriculture where it has formed a holding in which the World Bank's IFC holds 20%. Above, one of Yoma's proposed real estate projects in Yangon.
S'pore developer pushes for business in Myanmar
by Ivan Teo and Fiona Chan
Real estate developer Yoma Strategic Holdings is ramping up its push into Myanmar by branching out into several new businesses - education, coffee, dairy products, cold storage and logistics.
This follows a move by the Singapore-listed company in January to spend up to US$11.1 million on a stake in Asia Beverages Co, its first foray into Myanmar's fast-growing consumer sector.
On the education front, Yoma plans to build facilities on a 1.6ha site in its Pun Hlaing Golf Estate residential development in Yangon.
Yoma signed a memorandum of understanding with education organisation Harrow International Management Services to manage an early-years centre there for students aged two to nine years.
The centre is expected to take in 1,000 students and be operational by 2016.
Yoma also plans to develop schools in Thanlyin, in Yangon's southeast, adjacent to its Star City development.
With Dulwich College International overseeing and British school Dulwich College as educational adviser, Yoma plans to build an international school to take in 1,000 students from age two to 18. The estimated $40 million project is expected to be open by August next year.
These schools will use the British curriculum, but will include lessons in Myanmar language and culture.
Yoma also plans to build a $12 million private local school which will follow the Myanmar national curriculum, to be operational by September this year.
Yoma said the move into education is to tap into an under-served market. It believes demand will grow for education as more expatriate families arrive in Myanmar and with more locals seeking a private education.
Yoma chairman Serge Pun said the schools will increase the value of Yoma's real estate by about 20 per cent to 30 per cent. Real estate accounts for about 90 per cent of Yoma's revenue.
In another project, Yoma will partner First Myanmar Investment Co (FMI) to jointly develop two adjacent plots at FMI City, Yangon, and build 90 homes and 19,900 sq ft of commercial leasing space. The half a hectare of land is valued at $3.2 million.
Separately, Yoma has formed an investment holding arm, Yoma Agricultural & Logistics Holding (YALH), for its agricultural and logistics sectors. International Finance Corporation, the World Bank's private equity arm, will invest in up to 20 per cent of YALH and share its global network and expertise in agriculture investments.
YALH signed a conditional joint-venture agreement with global agricultural commodities merchant ED&F Man Holdings to produce coffee on Yoma's land at the Maw Tin Estate located in the Ayeyarwaddy Division of Myanmar.
With a 15 per cent stake in the project, ED&F Man plans to buy all the coffee crop. The venture is projected to require $20 million over four years and aims to plant 1,500ha of coffee.
Yoma is also forming a joint venture with FMI and PMM Partners to supply UHT dairy products to local consumers, a business set to require up to $46 million in the next five years.
In cold storage and logistics, Yoma is partnering food distributor Kokubu & Co and FMI to build distribution centres in Myanmar for agricultural, seafood and processed products with an initial $12 million investment.
The products will be transported using vehicles with chill and refrigeration capacity.
Yoma's vehicle lease business Yoma Fleet also signed its first three contracts last month with orders worth $1.5 million placed for trucks, buses and tractors.
Yoma chief executive Andrew Rickards said the moves are part of Yoma's strategy to build a diversified portfolio in Myanmar.