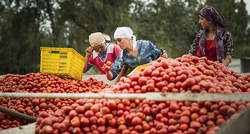 Times of Central Asia 18/02/2014
High hopes for Central Asia's agriculture sector
Written by Charles van der Leeuw
ALMATY (TCA) — Increasingly unstable weather conditions inflicting damage on winter crops have driven farmers in former Soviet republics in Central Asia towards gradual decreases in winter crops compensated by increases in spring crops. The shift comes at times when market opportunities for grain exporters in the region are on the increase – with drought and soil erosion haunting some of the USA's most important agriculture regions and floods threaten agro-areas in Western Europe.
According to experts, the former Soviet Union's three net exporters of cereals stand a pretty good chance to become, taken together, the largest grain suppliers in the world after the United States. Should Kyrgyzstan take the opportunity to join the trio, clout on the market can only further increase, with stable export prices expected for this year.
For 2014, 21.8 million hectares of farmland has been put under cultivation in Kazakhstan, a 1.5 per cent increase from the previous year. Up to 19 million hectares consist of spring crops. A long-lasting snow blanket has kept the soil's temperature and moisture level stable so far this winter, the Kiev-based specialised news agency APK-Inform lately quoted the Kazakh agriculture minister Asylzhan Mamytbekov as declaring.
By comparison, Kyrgyzstan's farmland under cultivation during the current season amounts to 1.17 million hectares, a 0.4 per cent increase from the previous season's agro-surface. While remaining a net grain importer, mostly from Kazakhstan, Kyrgyzstan could easily turn into a net exporter putting its present-day unused farmland under cultivation, local media report.
Attempts to put land plots on lease for agro-investors so far have led to naught, though. Once Kyrgyzstan joins the Eurasian Economic Union, due for early 2015 and so far consisting of Kazakhstan, Belarus and Russia, Kyrgyzstan will have both the obligation and a chance to get investors from partner countries in for the job.
In 2013, Kazakhstan harvested 18.9 million tons of cereals, up from 12.8 million in 2012, figures recently released by the National Statistics Agency read. The total amount for 2013 included 14.5 million tons of wheat. According to the Agency, as of February 1 this year carryover stocks of grain, mainly wheat of various degrees, amounted to 12.233 million tons, down by 11 per cent from the previous month but only 1.4 per cent year-on-year. This should allow Kazakhstan to realize its target export level for the current market year running from July 1 till June 30, of 9 million tons, an increase of 26 per cent from the previous period. Between July 1, 2013 and early February this year, Kazakhstan had already exported 5.3 million tons, making the remaining 3.7 million tons in exports "realistic" as Mamytbekov was quoted by the news agency.
In Russia, which together with Kazakhstan and Ukraine makes up for all grain exports from the former USSR, the situation is similar to that in Kazakhstan except for better growth dynamics. Up to 53 million hectares are forecasted for this year to be planted with spring crops, an increase of 1.5 million hectares from the previous year, APK quoted agriculture ministry official Pyotr Chekmarov as declaring. Out of a total of 78.6 million hectares of farmland under cultivation, this leaves only 14.7 million hectares for winter crops – including 12 million hectares for winter wheat.
In 2013, Russian farmers harvested 91.3 million tons of cereals; expectations for this year come close to 100 million tons, allowing exports to the amount of 22 million tons in the upcoming market year, up from 20 million in the current period. As for Ukraine, last year's record grain harvest of 63 million tons has allowed it to export up to 31.7 million tons in the current market year, up from 21.1 million in the previous period.
According to the European Bank for Reconstruction and Development (EBRD), the ex-Soviet "grain troika" can expect an improved market position from this year on. "The Bank forecasts the further shift of export activity from the countries of the OECD towards Russia, Ukraine and Kazakhstan," APK wrote on the issue. "According to the announcement, these countries have rather significant competitive advantages and the strong position in the export trading of grains and other agricultural commodities. The regions show active development rates. In particular, Ukraine may soon take the position of the second largest exporter of grains after the USA. Kazakhstan and Russia also increased their production volumes. The Black Sea countries continue investing in the grain sector to improve grain export indices, and create the guarantee that the political environment and economic climate in these regions to become stable, noted analysts of the EBRD. The Bank analysts also said that the reporting three countries have the potential to supply more than half of world grain exports, thus contributing to the global food security. In particular, they will be able to completely meet the demand of countries-importers in the southern and eastern Mediterranean."