Mongabay | 6 March 2014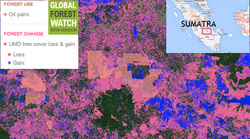 Global Forest Watch map of the area where the incident occurred. Click
here
for an interactive map
Clash with palm oil company leaves one indigenous community member dead in Sumatra
by Rhett A. Butler
A member of the Suku Anak Dalam indigenous community was killed and five others were injured during a clash with security forces on an oil palm concession owned by PT Asiatic Persada in Sumatra, reports Mongabay-Indonesia.

The incident occurred Wednesday evening in Bungku, Jambi. According to eyewitness accounts, security forces raided the village and arrested Titus, a 26-year old resident, who was forcibly taken into custody. It is unclear why he was arrested.

As word of the arrest spread, a large number of residents approached the Asiatic Persada office where Titus was taken. Security responded with force, firing guns and beating the protesters, six of whom were seriously injured and taken to local hospitals. One of the victims, Pujiono, aged 40, succumbed to his injuries at 11 pm.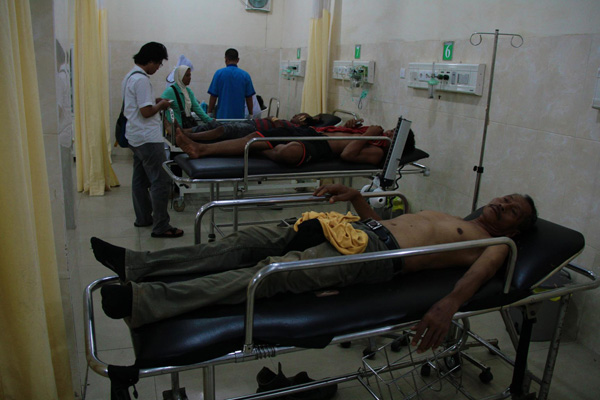 Suku Anak Dalam indigenous community members beaten by security at PT Asiatic Persada's concession in Sumatra. Photo courtesy of Perkumpulan Hijau
Asiatic Persada is a subsidiary of the Ganda Group, a palm oil giant that supplies Wilmar, the world's largest palm oil company. Wilmar recently established a policy that bars palm oil produced via deforestation, peatlands degradation, or social conflict. The incident is therefore the first major test for Wilmar, says Greenpeace.

"Greenpeace condemns this violent attack and sends condolences to the individuals family and the community. We fear that this tragic death may be the culmination of numerous environmentally and socially damaging actions linked to Ganda. Operations such as this are what give palm oil the negative reputation it currently has," said Annisa Rahmawati, forest campaigner at Greenpeace Southeast Asia.

"Greenpeace calls on the Ganda Group and Wilmar to respond quickly to this tragic event and to ensure an adequate process for conflict resolution is agreed on. We urge Wilmar to stop purchasing from any concession under the Ganda Group until such time, and the government to fully investigate the case. Palm oil that comes from companies engaged in these sorts of pactises should not be allowed to enter the market."

Violent social conflict is not uncommon in the palm oil industry in Indonesia. Conflict often arises when local communities are displaced from traditional lands for industrial plantation development.

In the case of the Suku Anak Dalam, villagers have been battling for recognition of traditional land rights for 20 years, according to Greenpeace.


CITATION: Jogi Sirait. Aparat dan Asiatic Persada Kembali Represi Suku Anak Dalam, Satu Tewas. Mongabay-Indonesia. March 6, 2014