Daily Independent | 3 March 2014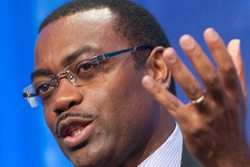 "We will no longer manage poverty with agriculture; we will use agriculture to create the future millionaires and billionaires of Nigeria," says Nigeria's Minister of Agriculture and Rural Development, Dr. Akinwunmi Adesina.
Nigeria's corporate billionaires go to farm
By Onche Odeh
Call it a new dawn for agriculture in Nigeria and you just are right, as farming is no longer a venture reserved for the poor in Nigeria.
Although this has been at the heart of the frequent sermons by the current Minister of Agriculture and Rural Development, Dr. Akinwunmi Adesina, since he assumed leadership of the Ministry, it has often been regarded as political.
During the week, it, however, became clear that the preaching of the Minister may have caught the heart of individual billionaires and corporate entities, who have taken the bold step of staking significant part of their resources and time into agriculture.
Last week Monday, chief executive officers (CEOs) and representatives of private and government-supported businesses converged in Abuja where the Executive Leadership Team (ELT) of the Nigerian Agribusiness Group (NABG) was inaugurated.
At the end of the high-profile meeting, Sani Dangote, an accomplished businessman with investments in key sectors of the economy including manufacturing, banking, oil services and commercial agriculture, emerged as protem president of the team.
That event marked the climax of a concerted drive by the Ministry to drag private sector players into agriculture, an approach the Minister said was deliberate.
Speaking during the meeting held at the Transcorp Hilton, Abuja, Adesina said, "The essence is to grow the agriculture sector using private sector, focus on value chains for all commodities, and connect farms to mills, aggregators, storage, improved logistics, processors and value addition.
"We will no longer manage poverty with agriculture; we will use agriculture to create the future millionaires and billionaires of Nigeria."
This is the big picture. The Minister is, however, not oblivious of the challenges to meeting this aspiration, which have been outlined in a 2013 independent survey of 75 leading agribusinesses in Nigeria.
From that survey, it was established that 72 per cent of the problems faced by agribusinesses are related to infrastructure deficit, while financing accounts for 56 per cent of their challenges.
It was also found that supply security accounted for 55 per cent of their problems, while government regulations, tax and policies form 53 per cent of their challenges.
Other constraints included human capital (45 per cent), security (39 per cent), land (24 per cent) and government coordination (19 per cent).
"The top four constraints are being addressed head-on by the Ministry of Agriculture and Rural Development through the development of the Staple Crop Processing Zones (SCPZs) that are expected to add an additional N1.4 trillion to the Cross Domestic Product (GDP) of Nigeria," the Minister disclosed to the meeting.
Adesina also acknowledged the complexity of doing private agribusiness in Nigeria, pointing out that, "a major challenge facing the agribusinesses in Nigeria is the multiplicity of directions and poor coordination on policie".
He said: "Sometimes different agencies of government give conflicting signals. For example, we continue to receive calls on the lack of collaboration in the implementation of the zero duty on importation of agricultural equipment and machineries."
Having recognised the private sector as the engine of growth of any economy, the Minister said the NABG would help to ensure that the ongoing reforms of the agriculture sector are protected and sustained.
It is in this light that the Minister said, "The work of the Ministry of Agriculture and Rural Development is no longer just on farm production, but improving processing, value addition and market opportunities for farmers through the development of integrated value chains for all agricultural commodities."
This, Adesina said, will be driven by the new group.
Already, a sign of positive outcome is emerging. The Ministry has received over $4 billion in executed Letters of Intent (LoIs) for investments by 30 private sector agribusinesses. In addition, the Minister disclosed that the Ministry has established relationships with over 150 agribusinesses in Nigeria.
To address the issue of financing, Adesina said, "The Ministry, the German Development Bank (KFW) and the Federal Ministry of Finance have established the Fund for Agricultural Financing (FAFIN), a private equity and quasi-equity and debt fund, which will deploy $100 million in long term finance to agribusinesses."
FAFIN, he said, will provide financing of $2 million to $5 million to qualifying agribusinesses.
Meanwhile, the Ministry is working actively with state governments to secure land for genuine investors to address the issue of access to land, just as the Minister said it is also rapidly fixing financial value chains to support farmers, aggregators, transporters, processors and others.
Records from the Ministry has also shown that the Central Bank of Nigeria (CBN) has facilitated the increase in total bank lending to agriculture and agribusiness from close to zero per cent in 2011 to about five per cent in 2013, amounting to over N320 billion.
Meanwhile, there is excitement among the big private sector players that have keyed into the project.
President of Fertilizers Producers and Suppliers Association (FERSAN) and deputy chairman of African Gum Arabic Producers Association, Dangote, who is protem president of the ELT, said, "This group will drive inclusive market growth, representing the interests of farmers, aggregators, input providers, supply chain management, food processing, marketing and consumers.
"Private sector support of necessary policy and regulatory reforms will ease doing business in Nigeria's agricultural sector and reforms to sustain the gains of ATA beyond 2015," said Mohammed Abubakar, CEO of UMZA farms in Kano.
Citing the Eminent Persons Group meeting in New York earlier this year, where a similar case was rendered, Dangote said: "We have this unique opportunity in 2014 to align on one channel of communication to build confidence in government policy reforms that cuts across several MDAs."
Given their significant investments into integrated agriculture and agribusiness, the NABG is expected to lead, support and advocate in favour of institutional, policy and regulatory reforms by working with the three tiers of government in Nigeria, federal, state and local governments.
"The NABG is expected to help sustain the investment inertia of ATA," Emmanuel Ijewere, one of the chief promoters and advocates for change of name of the Federal Ministry of Agriculture and Rural Development to Federal Ministry of Agriculture and Agribusiness, said.
Others at the meeting include CEO, Notore, Jite Okoloko; CEO, Friesland Campina, Peter Eshikena; Engr. Charles Ugwuh of Ebony Agro; CEO, Bank of Agriculture, Dr. Mohammed Santuraki; CEO, BOI, Ms. Evelyn Oputu; as well as CEOs of Mainstreet Bank, First Bank, Access Bank, and UBA.