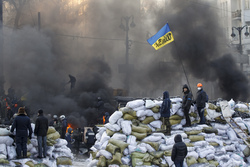 "Business as usual" for Trigon Agri, which controls some 52,000 hectares in Ukraine, out of a total Black Sea landbank of about 170,000 hectares. (
REUTERS/Vasily Fedosenko)
Agrimoney | 28 February 2014
Ukraine unrest may boost farming, says Trigon Agri
Trigon Agri downplayed the risk to agriculture from Ukraine's crisis, saying it would probably herald a "better business environment", as the farm operator forecast a return to profits next year.
The group, which controls some 52,000 hectares in Ukraine, out of a total Black Sea landbank of about 170,000 hectares, said that the "dramatic events" in the country had "not affected" its "business interests".
"If anything the sharp devaluation of the hryvnia will benefit us, as a lot of our costs are fixed in hryvnia whereas our revenue is fixed in dollars," said Joakim Helenius, the Trigon Agri chairman.
He added: "It is too early to forecast the longer-term impact of the fast evolving events.
"But the strong probability is that it will lead to a better business environment than the one we have had to operate in during recent years."
Trigon Agri, which is attempting to boost its performance by asset sales and cost cuts, forecast that it would "move into 2015 with a very strong balance sheet and underlying profitability".
'Hold back sales'
The comments follow an assessment from the International Grains Council on Thursday that "while recent civil unrest in Ukraine caused some uncertainty in markets, wheat trading was generally said to be little-affected".
In corn, of which Ukraine is the third-ranked exporter, the crisis had prompted "many farmers to hold back sales", fostering a rise of some 6%, to $225 a tonne, in export prices (on a fob basis) month on month.

Macquarie has cautioned
while Ukraine agriculture might benefit short-term from the boost to exports from a weaker currency – the hryvnia has fallen 16% against the dollar so far this year to record lows – the boost may be outweighed longer-term by setbacks from inflation and uncertainty over government support.
Into the red
Trigon Agri's comments came as it unveiled a loss of E16.8m last year, compared with a profit of E1.69m in 2012, reflecting weak crop prices, as well as an E18.1m gain to the 2012 results from a Russian land sale.
The group's cereals and oilseeds production, from the 78,000 hectares harvested, rose by 27% to 238,214 tonnes, rebounding from the drought-affected levels of 2013.
However, thanks to lower prices, revenues for the calendar year rose by only 3.2% to E75.4m, despite a 46% jump in crop volumes sold, cutting inventories to some 12,500 tonnes.
Mr Helenius added that crops, comprising 7,500 hectares of rapeseed and 38,000 hectares of wheat, sown in the autumn for harvesting this summer were in "very good" condition.
"We were fortunate in that we managed to get our fields seeded before the onset of the heavy autumn rains which disrupted seeding in large parts of the Black Sea region," he said.
Trigon Agri shares, which are listed in Stockholm, stood 1.3% lower at E2.33 in morning deals.