Wall Street Journal | 24 February 2014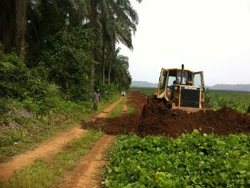 One of the main players in Greenstar Resources Ltd is Andrew Beveridge, who also established an oil palm plantation company in Sierra Leone called Goldtree Holdings. Above is a photo of a road expansion at the Goldtree plantation site.
Paragon Resources PLC acquisition of interest in Paragon Volta Limited
Paragon, the AIM-listed agricultural investing company (AIM: PAR), is pleased to announce that, it has today acquired an initial 10% shareholding in Paragon Volta Limited ("PVL") and is in the process of finalising for PVL a 44 year sub lease over 5,000 hectares of irrigable land close to the River Volta in Ghana from an existing lease over a much larger farm land estate connected to the vendor (the "Investment"). This is an important strategic step in the implementation of its investment policy in African agriculture.
We are also pleased to announce that Greenstar Resources Limited ("Greenstar"), the Company's 40% owned agricultural consultancy and management business, intends to enter into a management contract with PVL to manage the development of the land and to progress early trials with a view to validating and enhancing PVL's crop plans focused on generating early revenue from its activities. Greenstar's extensive experience in West African agriculture has proved to be an important element in consummating the Investment as it will be critical in maximising the potential of the land.
This is an exciting opportunity for Paragon and is the next important step (following the previous acquisition of the shareholding in Greenstar) in the development in West Africa of what the board of directors of Paragon (the "Board") hopes will grow into a major agricultural business. Paragon hopes that this is the first step in developing a deeper relationship with PVL, alongside the acquisition of other businesses and investments as the Board implements the Company's investing strategy.
PVL has been established by Mr Vijay Thakrar, who holds the remaining 90% of the shares, to progress the significant agricultural potential of this land in Ghana.
Issue of Equity
In consideration for the initial stake in PVL, the Company has issued 10,000,000 new Paragon ordinary 0.05p shares ("Ordinary Shares") to Mr Thakrar (the "New Ordinary Shares"). These New Ordinary Shares will be subject to a "Lock In" agreement under which Mr Thakrar has agreed not to sell any of the New Ordinary Shares for at least 12 months, and with orderly market restrictions for a further 12 months. An application will be made to the London Stock Exchange for the 10,000,000 new Ordinary Shares to be admitted to trading on AIM. It is expected that the admission will become effective and that trading in the New Ordinary Shares will commence on 28 February 2014 ("Admission").
Following Admission, the Company's enlarged issued share capital will comprise of 445,675,097 Ordinary Shares. This figure of 445,675,097 Ordinary Shares may be used by shareholders in the Company as the denominator for the calculations by which they will determine if they are required to notify their interest in, or a change in their interest in, the share capital of the Company under the FCA's Disclosure and Transparency Rules.
Following the issue of the New Ordinary Shares, the Company is aware of the following Significant Shareholders:
Ordinary Shares % of Total Ordinary
Significant Shareholders Held Shares in Issue
Lynchwood Nominees Limited 79,437,859 17.82%
Greenstar Associates LLP 41,688,426 9.35%
Vidacos Nominees Limited 19,859,465 4.46%
Marek Stefan Gumienny 19,859,465 4.46%
Thomas Allan 15,962,380 3.58%
Aurora Nominees Limited 15,887,237 3.56%
Smith & Williamson Nominees
Limited 14,497,041 3.25%
Ryan Rooney 14,444,916 3.24%
The following Directors also have the following interests:
Ordinary Shares % of Total Ordinary
Directors' Shareholdings Held Shares in Issue
Andrew Beveridge* 45,844,213 10.29%
Simon Hunt* 41,688,426 9.35%
Dan Cassiano-Silva 18,754 0.00%
* Includes 41,688,426 ordinary shares held by Greenstar Associates LLP of which Simon Hunt and Andrew Beveridge are members.
Simon Hunt, Executive Chairman of Paragon, said "I am delighted that we have taken this initial step in our long term relationship with PVL in Ghana, where we see enormous potential to develop a strong operation in a country which is very supportive of agricultural investment and development"
ENDS
For further information, please contact:
Paragon Resources PLC
Simon Hunt
(Chairman)
+44 7733 337 755
www.paragon-resources.com
Allenby Capital Limited
(Nominated Adviser and Broker)
Nick Harriss/Jeremy Porter/James Reeve
+44 20 3328 5656
www.allenbycapital.com
This information is provided by RNS
The company news service from the London Stock Exchange