by Baudelaire Mieu
The Ivorian government has developed the National Agricultural Investment Program (known by its French acronym, PNIA) for 2012–2016 to support balanced and comprehensive development of the agricultural sector. At an estimated cost of 2 trillion CFA francs (about €3 billion), this plan has the ambitious goal of making up for the shortfall in financing for this sector over the last ten years.
Private investors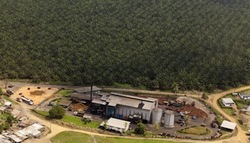 PALMCI plantation, operation and plant at Toumanguié, Côte d'Ivoire. (Photo: Camille Millerand/JA)
"The PNIA will create 2.4 million jobs and bring 6 million people out of hunger and poverty for good," said Mamadou Sangafowa Coulibaly, the Minister of Agriculture. The government intends to rely heavily on private investors to find the funding necessary to achieve 9% annual growth in the agricultural sector. In this connection, it will make some 24 million hectares of arable land available to large international groups.
Of the eleven projects planned, seven – for the production of cashews, oil palm, dessert bananas, coffee, and cacao – are already operating. Throughout 2013, representatives of large agroindustrial concerns made regular trips to Côte d'Ivoire to persuade the authorities of the need to finance their projects. Multinationals such as the Louis Dreyfus group, Novel Côte d'Ivoire, and Export Trading Group have taken positions in the rice sector. Côte d'Ivoire produced 1 million tonnes of rice in 2013 and, with massive investment, intends to triple this volume by 2016.
Tree crops
In coffee, cacao, oil palm, and rubber, multinationals such as Nestlé, Olam, Cargill, and Cémoi are developing numerous projects around the country. Abidjan is trying to regain the lead among African coffee producers, which it lost over ten years ago, and expects to triple the volume of coffee produced in the next two years, after producing 100,000 tonnes in 2013. The country also wants to consolidate its position as the world's leading producer of cacao. The Nestlé group plans to invest 35 billion CFA in plantation renewal by 2020 in order to improve the stability of its supply in these two sectors. So far, nearly 513 billion CFA has been raised to finance the PNIA.
Three hungry giants
Olam
With 20 years of activity in Côte d'Ivoire, the Singapore-based Olam group is a major player in the country's agricultural sector. Its crop portfolio includes coffee, cacao, oil palm, cashews, and cotton. In 2012, the company inaugurated the continent's largest cashew processing facility – annual capacity 30,000 tonnes – with an investment of17 billion CFA (€25.9 million).
Simultaneously, Olam built a cacao bean processing plant for 30 billion CFA in San Pedro. Thanks to its joint oilseeds venture with the Sifca agroindustrial group, it is developing several oil palm projects. Over the next three years, Olam plans to invest more than 100 billion CFA in Côte d'Ivoire.
Cargill
Operating in the country since the late 1990s, Cargill West Africa has been ramping up its development of cacao projects. From 2011 to 2013, the American giant, partnering with the country's National Rural Development Agency (Anader), invested 1.8 billion CFA to train 60,000 cacao producers who are members of 100 cooperatives. Cargill also plans to distribute over 600,000 high-yielding cacao plants in order to renew the country's plantations.
The unchallenged leader in cacao, Cargill is now looking into oil palms as an investment opportunity. Its five-year development plan, valued at around 200 billion CFA, would see the creation of industrial oil palm plantations over an area of 50,000 hectares, along with a new processing plant. But while the investments were to have been green-lighted at the end of 2012, they have been delayed by various factors, particularly the lack of available land. Cargill has not given up on this project, which could create 50,000 jobs.
Louis Dreyfus
Having specialised in rice and fertiliser in Côte d'Ivoire for over 50 years, the French-Swiss Louis Dreyfus Commodities group (LDC) knows the local context intimately. On 31 January 2013, Margarita Louis-Dreyfus, President of LDC, went to Abidjan to sign an agreement with the government that will provide for new rice paddy development in the northern regions of Poro, Tchogolo, and Bagoué. In the context of this agreement, LDC has committed to investing 30 billion CFA in rice growing.
The agreement also provides for 100,000–200,000 hectares of irrigated land to be made available for the annual production of 300,000 tonnes of paddy rice, a project slated to benefit 60,000 producers working under the aegis of this company. Though the agreement was signed in 2013, the project is still on hold, with LDC awaiting final government approval.