Agrimoney.com | 21 February 2014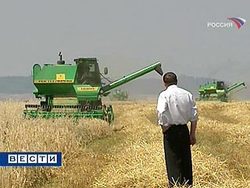 Struggling Black Earth flags potatoes, cost cuts
Black Earth Farming is looking to sugar beet and potatoes to revive its fortunes after revealing its eighth annual loss in nine years, reflecting lower crop prices and a "very wet, late and costly harvest", sending its shares tumbling.
The Russian farm operator unveiled a loss of $18.1m (584.7m roubles) for 2013, compared with earnings of $7.49m (245.1m roubles) in 2012 – the only profitable year in the company's history.
The return to the red, on revenues up 12.4% at $60.2m, reflected a sharp decline in performance in the October-to-December period, when the group ran up a $44.7m loss,
"It is very disappointing to be back again reporting heavy losses," said Richard Warburton, the Black Earth Farming chief executive, blaming the decline on shortfalls in drives to boost yields and cut costs, besides on a fall of 23% on average in prices of the crops it grows.
"The yields were too low, the costs were too high."
The company have been given a "stark lesson on where we are on the path of turning the business round".
'Judicious cost reductions'
Indeed, Mr Warburton said that, among a "host of improvements" planned for this year it would include "judicious cost reductions".
"We need to be more ruthless with regard to overheads," he said.
However, the group has also "re-evaluated cropping" in an effort to focus on the most profitable mix, a process which has stressed the importance of root crops in the Black Earth portfolio.
"Root crop vegetables can offer the business great potential to scale up significantly and profitably," Mr Warburton said, highlighting that the group's diversification into sugar beet and potatoes was "performing well and gathering pace".
Black Earth Farming is this year to see a "large increase in our potato enterprise", which will quadruple sales under a deal with PepsiCo, for making crisps, albeit from a low base, with the group's total potato crop only 6,644 tonnes last year.
'Well below expectations'
The group is also planning to sow extra area with corn and sunflowers, after wet weather late last year prevented planting of some winter wheat.
Total plantings for 2014 harvests are expected at 220,000 hectares, down some 2% year on year.
Last year, sunflowers had "yielded reasonably", at an average of 2.0 tonnes per hectare, although the group had witnessed "wide variances between commercial and high oleic varieties".
The corn yield, at 4.3 tonnes per hectare, had proved "well below expectations", down 0.8 tonnes per hectare on the 2012 result, after a crop which had "looked to have high yield potential" was damaged by excessive rains
"Rainfall in September was at record levels in some of our regions, on average about 90% above the 30-year average," Mr Warburton said.
Black Earth Farming shares, which are listed in Stockholm, tumbled 8.5% to SEK5.95 in morning deals.