World Development Movement | 21 February 2014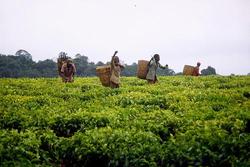 Tea plantation in Tanzania. (Photo: Gumtau/CC)
Tanzanian tea: a new frontier for big business
By Chris Walker
Last week, global corporation Unilever announced that it is to triple its production of tea in Tanzania. It's the latest outcome of Unilever's partnership with the Tanzanian government, formed in 2013 to much fanfare, to 'reinvigorate' the Tanzanian tea sector.
The company claims that their new investment will generate approximately £90m in revenues for the country. The tea-growing scheme will be based in the new Southern Agricultural Growth Corridor of Tanzania (SAGCOT), a 7.5 million hectare area of fertile land now designated for industrial farming by corporations. The announcement has been hailed by the corporate world as a sure sign that Tanzania is now a place to do business.
Unilever's latest expansion is part a new wave of corporate interest in African agriculture. In return for corporate investment and aid, African states are reforming policies to make it easier for corporations to operate in their farming sectors. Unilever's plans in Tanzania form part of the G8's New Alliance for Food Security and Nutrition launched in 2012. Under the initiative, corporate farming projects are supported by aid from G8 governments in the name of feeding Africa's hungry. In return for aid and investment, African governments are pressured to reform laws to help business control land, sell GM and hybrid seeds, and export crops for the global market. This will make vast profit for corporations. But it spells bad news for small-scale farmers as they battle to keep control of their livelihoods and compete with the arrival of big business.
In the world of big business, Unilever is truly big. It is the second largest producer of packaged consumer goods in the world, reaching a £42bn turnover in 2012. It owns a range of household brands including Dove, Flora, Hellman's, and Ben & Jerry's. Like many players in the global food market, Unilever has made vast profits by controlling an increasing share of global resources and supply chains, mostly to feed consumers in rich countries. It's why the corporation now owns businesses in 90 countries.
This corporate expansion is nothing new. During the nineteenth century colonial period, European governments assisted corporations to take control of territories, resources and people in poorer countries to extract profit. Companies changed land-use to export raw materials and crops to consumers back home. As a luxury product grown for rich consumers, the growing and export of tea played a key part in Britain's colonial power. Just like for companies in the colonial period, Unilever's tea production and other New Alliance projects are not intended to increase food security for Africans. Instead, the New Alliance and similar initiatives threaten a corporate sell-off of African food systems.
Despite Unilever's promise of export revenues for Tanzania, the chances of Unilever's investments benefiting poor communities are slim. With farmers losing control of their markets, and the Tanzanian government coaxing corporate investment with reduced taxes, much of the income generated by the tea growing scheme is unlikely to reach beyond the company. There are fears that farmers in the SAGCOT region risk losing land to corporations, and hence their livelihoods. Unilever's stated strategy will be to contract local farmers to provide tea crops. Yet farmers on such schemes elsewhere have faced low payments for produce and exploitation at the hands of corporate buyers. Unilever's tea production in South Africa has recently run in to trouble with 220 workers remaining on strike since 17th January over low pay.
Food sovereignty protest. FAMSI/CC
Food sovereignty protest. FAMSI/CC.
Last year, African civil society groups described the G8's New Alliance for Food Security and Nutrition as "a new wave of colonialism". Their statement said that the "practical results of the recent surge in investment in African agriculture expose the empty rhetoric of African food security … Meanwhile actual farmers are separated from the land and the only realistic option for a livelihood".
In January, after three and a half years of hard campaigning, WDM convinced the European Union to put in place restrictions on banks that will limit their ability to speculate on food prices and further drive people in developing countries into hunger. But the struggle for the right to food continues. In solidarity with African civil society groups, this year we're calling on the UK government to stop funding the G8'S New Alliance and similar initiatives that push corporate agriculture on African farmers. Instead, we're calling for UK aid to support local and sustainable food systems, and food sovereignty for African communities. Check back soon about how you can support the campaign by visiting www.wdm.org.uk or by searching #agribusiness on Twitter from early April.
- See more at:
http://www.wdm.org.uk/food-and-hunger/tanzanian-tea-new-frontier-big-business#sthash.H3vw6etS.dpuf