Guardian | 18 February 2014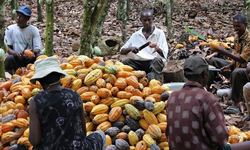 Small-scale farmers split cocoa pods in the town of Akim Akooko, eastern Ghana. (Photo: Reuters)
Ghana hopes G8 New Alliance will end long history of food insecurity
by Afua Hirsch in Accra
Despite Ghana's large tracts of fertile land, the west African country has a long history of food insecurity. Millions in the south are no longer at risk, but the number of vulnerable people in the more arid north has increased in recent years.
The government says that is why Ghana became one of the first six African countries to sign up to the G8 New Alliance for Food Security and Nutrition in 2012. Under the initiative, the country will focus on five crops: cowpea, maize, cassava, rice and yam.
"This is really about improving the environment of aid effectiveness, food and nutrition so that countries can really take ownership of their food security and initiatives," said Ahmed Yakubu Alhassan, the deputy food and agriculture minister with responsibility for crops.
"Ghana has huge potential in horticultural crops, in vegetables and fruits like pineapple. But natural resources by themselves do not bring economic returns. What is needed is more investment."
Tom Gambrah, the managing director of Ghana Premium Foods, chairman of the Ghana Grains Council and a New Alliance board member said the country could not accept the status quo.
"The New Alliance will make it easier for the private sector to do business in agriculture. At the moment, we experience regular bottlenecks," he said. "Then there are better seeds than we are using, not genetically modified seeds, but high-yield hybrid seeds that can double or triple harvests and that are already being used in other countries.
"But at the moment to bring in new seeds is either not allowed, or takes five or 10 years for a seed committee to approve it. These are things bringing real income into farmer's pockets. And when those yields go up, we in the private, have to be able to buy it, process it, help set the standards in storage and advocate donor support for good economic practices."
There was, however, almost no knowledge of the G8 initiative among some stakeholders, including farmers, academics and agricultural campaign groups contacted by the Guardian.
"It seems that this is just a few experts who are pushing it through parliament … without anyone thinking through the likely consequences for our country," said Duke Tagoe of the Food Sovereignty campaign group. "It's very worrying."
The government admits that it could have done more to consult those involved in the agricultural sector before signing up to the plan. According to Alhassan, however, it has "been trying to mainstream these global initiatives into local arrangements. It may not sound like New Alliance, but just because people aren't familiar with the vocabulary, it doesn't mean that people are not informed about it."
Confusion surrounding the plans is made worse, critics say, by a dizzying array of regional and national agriculture programmes that are inaccessible to ordinary people. These include the Comprehensive Africa Agriculture Development Programme (Caadp), which has been implemented in Ghana as the Medium Term Agriculture Sector Investment Plan, the Ghana Commercial Agriculture Programme, and the Savannah Accelerated Development Authority.
All the initiatives involve providing more incentives for the private sector to buy and cultivate land, and to become involved in the country's seed industry. But there has been growing concern in Ghana that the commercialisation of the food industry will not benefit small farmers.
The New Alliance document for Ghana states that 10,000 hectares of land will be made available for private sector investment by the end of 2015, prompting fears of large-scale land grabs.
"The high priority given to private investment outlined in the G8 co-operation agreement in support of the New Alliance for Food Security and Nutrition in Ghana is fundamentally flawed," a Food Sovereignty spokesman said.
"Ghana's current pattern of agricultural investment and growth is clearly not succeeding in addressing food and nutrition insecurity … The New Alliance document manifestly emphasises private investment, but there is little corporate profit to be made in the type of agriculture that can address these issues."
Seth Dankyi Boateng of the University of Ghana's agriculture college said public-private partnerships were welcomed by the country's small-scale farmers, as long as they retain control. "For the peasant farmers in Ghana, land is life. If multinational producers are given the ability to buy large quantities of land, then naturally the farmers who depend on those facilities may be deprived of their livelihood. And so most people would have serious concerns about that."
Several agricultural and food giants have signed up to the G8 initiative, including the commodity investment firm Armajaro, the drinks company SABMiller, the global conglomerate Unilever and the Norway-based fertiliser company Yara. Ghanaian companies have also signed up, but they admit it is unclear exactly how it will work.
Ekwunife Okoli, the managing director for Africa at the drinks company Diageo, said: "When we hear that an airport is going to be built in one of the outlying cities, people celebrate, nobody complains that somebody is going to grab land, yet land is used for that. Why should people be worried if an investor who goes into agriculture grabs the land? As a mindset about agriculture, we need to shift. I see an investment in agriculture as no different from an investment in any other industry."