The Land | 13 February 2014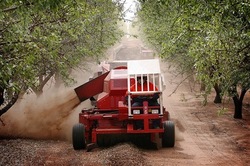 The Olam almond business covers 18,000 hectares, including 12,000 planted with three million trees
Olam's $211m almond deal
ANDREW MARSHALL
SINGAPOREAN-based Olam international has concluded a $211 million sale for its vast Victorian almond orchards on the Murray River at Mildura and Robinvale as part of a minimum 18-year lease-back deal.
The sale has been described as one of the biggest farmland transactions worldwide in the past year.
It represents about 50 per cent of Australia's almond production area.
The Olam almond business covers 18,000 hectares, including 12,000 planted with three million trees.
It was originally bought from Timbercorp in 2009 in several parcels worth more than $300m.
The production and processing venture will not see any change in its operational activities following the sale of land and trees to an international investor partnership led by Zurich-based asset management company Adveq Real Assets and co-ordinated locally through the Laguna Bay Pastoral Company agribusiness investment group.
Olam Australia's executive director Bob Dall'Aba said the land sale freed up cash for the company to expand its fast developing base in the cotton, grain, wool, dairy and nut sectors in Australia, or divert some funds to overseas projects.
Olam's international expansion move into agricultural commodity processing commenced in Australia in 2006 with its purchase of Queensland Cotton and now extend across Asia and Africa.
He said Olam remained strongly committed to its big almond venture, having made a strategic decision to buy into almond production well before the opportunity to acquire Timbercorp's assets emerged.
It had an option to extend its lease well past the initial 18-year contract.
The orchards account for approximately 3.5pc of the world's almond production, which was worth more than $US5 billion last year.
Adveq's executive director Berry Polmann said his investor group was pleased to have kick-started its co-invest platform with almonds, the king of crops.
"Institutional investors are attracted to farmland investments for their diversification benefits and long-term inflation protection," he said.
"Investors require sustainable performance in an asset class that might be challenging to access."
The Municipal Employees' Retirement System (MERS) of Michigan and Danica Pension were among the co-investment partners to establish Adveq Almond Trust II, which formally purchased the orchards.
Adveq's investment client base comprises institutional investors such as pension funds, insurance companies, family offices and other financial institutions in Europe, North America and the Asia-Pacific region.
It has offices in Zurich, Frankfurt, London, New York, Beijing, Shanghai, and Hong Kong.