Takepart.com | 13 February 2014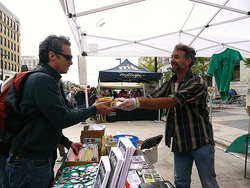 "Farmland has now become the latest scarce 'hot' commodity for all sorts of speculators who have absolutely no interest in agriculture," says John Peck (R) of Wisconsin-based Family Farm Defenders.
Here's why foreign investors are trying to buy American farmland
By Steve Holt
The news from the Department of Agriculture this week wasn't good. The USDA's dour projections suggest that, after a record five-year boom in crop prices, that bubble is set to burst, potentially decreasing annual farm profits by 27 percent nationally. While price fluctuations are nothing new in agriculture—there is a reason why farm subsidies exist, after all—this latest boom-and-soon-to-bust cycle in the commodity market could have a lasting impact on American agriculture. That's because wealthy international investors and corporations are buying up much of America's usable land at astronomical prices per acre, turning the farmers into their tenants or repurposing the land altogether.
Come the next boom cycle, it may be overseas interests that reap the cash rewards.
"Farmland has now become the latest scarce 'hot' commodity for all sorts of speculators who have absolutely no interest in agriculture," said John Peck, executive director of Wisconsin-based Family Farm Defenders.
"No local farmer can compete with $7,000 an acre," he said, citing the going price foreign investors are willing to pay for America's heartland.
Last year, The New York Times reported that record high prices for commodity crops such as corn and soybeans were driving up auction prices for farmland, where acreage is being bought at a crazy clip by farmers and investors, some from overseas. Current values are around four times higher than the peak per-acre price reached during the bubble in the 1970s and '80s that preceded the farm crisis. Fourth-generation Kansas farmer David Taylor, 59, told the newspaper he sold his 176-acre soy farm for more than $10,000 per acre after realizing that his children were not going to become farmers.
"I bawled like a baby," he told the Times.
When you consider farming's demographics problem, it becomes clear that Taylor isn't the only last-generation farmer looking for a buyer. The lion's share of farmers is going gray—nationally, the average age is 55—and fewer young people are getting into the business. So when someone comes along and bids a small fortune for a plot of family land, it's a hard offer to turn down. As such, the recent spike in commodity prices has presented many farmers with the opportunity to cash out big by selling their land. But with the crop-price bubble expected to burst this year, the future, less bullish agriculture industry will be defined by a different landscape of American land ownership.
In November 2012, UBS AgriVest, a unit of the Swiss banking giant UBS, paid $67.5 million, or nearly $7,000 per acre, for about 9,800 acres in southwest Wisconsin. The UBS division was behind similar land grabs in the Mississippi Delta, the Mountain West, and Georgia. Elsewhere, in Michigan, a publicly traded investment firm called the Gladstone Land Corp. is buying up parcels of land used to grow blueberries and other row crops. Gladstone is then finding corporate farmers to rent and cultivate the land.
"We're tuning up and beginning to buy as much farmland as we can right now," CEO David Gladstone told MiBiz.com. "There are a lot of farmers out there just leasing their farms (who) have children with no orientation for the business. They're getting older and looking for some liquidity."
Foreign companies are getting in on the action too. Family Farm Defenders is trying to keep that from happening in Wisconsin. Previously, a 130-year-old state law limiting farmland owned by foreign investors to 640 acres had prevented this kind of land grab. But Republican Gov. Scott Walker has been pushing for a repeal of the provision, essentially opening up Wisconsin's farmland for sale to the highest bidder. The provision was dropped from Walker's 2014 budget last year but is being discussed again among Republicans in the legislature for possible adoption.
The change in land ownership isn't limited to rural areas. Financial services mogul John Hantz caused a firestorm of controversy a few years ago when he purchased hundreds of acres of derelict land in Detroit and proposed to build an urban mega-farm. Observers were skeptical, seeing it as a land grab instead of an investment in the sustainable future of Detroit. As it stands, the project will be a large urban tree farm with intermittent gardens—a far cry from the mega-farm Hantz promised.
"Will the trees ever grow tall enough to be harvested? Will they be replaced by some other crops, like Christmas evergreens or broccoli, as urban agriculture gets more common? Or will the trees provide a pleasant green canopy until Hantz can eventually sell the land to a developer?" columnist Laura Burman asked in the Detroit News last week. "None of that future is yet clear."
The same could be said for the future of the decidedly less niche world of commodity crop farming.