APO | 3 February 2014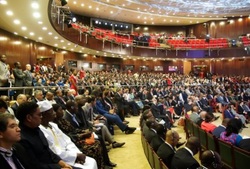 Equatorial Guinea commits to a co-investment fund of $1b to fuel economic diversification
At the opening of "Emerging Equatorial Guinea", the 2 days Symposium on the country economic diversification, the Equatoguinean government announced that it has committed to support foreign investments by allocating a Co-Investment Fund (CIF) of 500 Billion Francs CFA (eq. US $1 Billion).
"This Co-Investment Fund allocation testifies of the country's commitment to lay the bases for economic diversification to ensure sustainable growth and to create more jobs in our country. We have been blessed by an incredible oil wealth, which we aim to use to build the foundations of an emerging country, via a strong plan for economic diversification and industrialization plan", explains Marcelino Owono Edu, Equatorial Guinea's Minister of Finance and Budgets.
In front of an assembly of over 700 entrepreneurs, investors and analysts, scholars and development agencies representatives, gathered for the occasion, the Equatoguinean Ministry of finance indicated that the fund aims at fuelling the state's overall strategy to diversify the economy beyond oil and gas, on which its recent growth has been relying upon, to ensure a more balanced economic system, less vulnerable to global shifts in oil supply and demand.
During the next 3 years, the fund will support the country's development around key economic sectors which have been identified for industrial development together with the international private sector: agriculture and animal ranching, fisheries, petrochemicals and mining, tourism and financial markets.
AGRICULTURE & RANCHING
Over 100,000 hectares of available arable land; warm climate with high value tropical plant species; timber industry, following example of Gabon
FISHING
Extensive EEZ and territorial waters packed with commercially valuable marine species
PETROCHEMICALS & MINING
Leading petroleum producer in the CEMAC region, with opportunities to further develop untapped oil and natural gas fields; geographical positioning and a deep-water port
TOURISM
Unspoiled land and marine-scapes, high quality existing infrastructure, favorable climate, and consistent political stability
FINANCIAL SERVICES
Political will to establish a friendly environment and encourage the growth of financial services and offer broad range of products and instruments to a range of international clients.
The Co-Investment Fund (CIF) has been affected over the next three years according to best growth potential reservoirs.
With the Co-Investment Fund announcement, the Emerging Equatorial Guinea Symposium ignites the investment boom. It will take the form of the signing of concrete Memorandums of Understanding between global companies and local counterparties during the 2 days forum, as the event follows the whole investment process.