Deccan Herad | 3 February 2014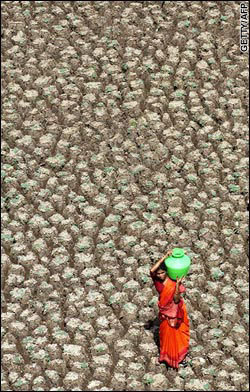 India's "green revolution" pushed the country towards a severe water crisis.
Africa: Asia's new agri business venue?
by Shalini Bhutani
The template for Asia-Africa collaboration on the agricultural front has already been designed.
The first ever Asia-Africa Agri business Forum (AAAF) is being organised in New Delhi through February 4-6, 2014. This has the highest-level of political support. President Pranab Mukherjee is inaugurating the forum and agriculture ministers from many Asian and African countries will be in attendance. The questions to ask are: what kind of agriculture is this going to 'export' from India, who are those taking agri-businesses overseas and does this have any social backing in either Asia or Africa?
The first President of India – Dr Rajendra Prasad, had inaugurated the First Afro-Asian Conference on Rural Reconstruction in New Delhi in 1961. In 1962, the Afro-Asian Rural Development Organisation (AARDO) was set up in Delhi. Its 2012 declaration on rural development, envisaged collaboration in R&D between both continents. AARDO is one of the institutional partners of this AAAF.
The so-called 'Green Revolution'(GR) in Asia, that pushed hybrid seeds and agrichemicals, has been projected as a success by those that have pushed it in the Asian region. The key players and institutes behind GR were bankrolled by the Rockefeller Foundation. There are equal number of voices that point to its failures on social, ecological and political fronts. Yet the pro-GR propaganda has made African governments hanker for their own Asia-style revolution in farming.
The 'Gene Revolution' – that promotes the use of genetically modified (GM) seeds and breeds, is likewise fraught with controversy. Behind both these revolutions are geo-political interests, Northern donors and large agribusinesses. Today, while the USAID funds agricultural R&D work on GM in both Asia and Africa, the Bill and Melinda Gates Foundation (BMGF) with the very same Rockefeller Foundation, fund the Alliance for a Green Revolution in Africa (AGRA) respectively. India is in a partnership with the US Government to 'improve' African agriculture. Thus the template for Asia-Africa collaboration on the agricultural front has already been designed.
Key players
Meanwhile, India's ministry of commerce is the lead player in its own endeavour to take Indian businesses to Africa. And the Government of India's own agri-business – AgrInnovate India Limited, an AAAF host is a "for profit" Company owned by the Department of Agricultural Research & Education (DARE), Ministry of Agriculture, set up in 2011 with the specific aim to commercialise ICAR R&D products. Africa is its new business frontier. Another AAAF host –the EXIM Bank, the premier export finance institution of India, identifies what it regards as good investment destinations for Indian businesses. It has also strengthened institutional linkages with the African Development Bank to create an enabling environment for supporting trade and investment for Indian businesses in Africa.
Other institutional partners of AAAF are the Basel-based Syngenta Foundation for Sustainable Agriculture. Syngenta Foundation India staff epitomise the connections between the Foundation, the Indian national agricultural system and the Federation of Indian Chambers of Commerce & Industry (FICCI). FICCI staff has been instrumental in developing the Government of India's plan towards Public-Private Partnership (PPP) for Integrated Agriculture Development.
One of the CGIAR centres – the International Crops Research Institute for the Semi-Arid Tropics (ICRISAT) based in Hyderabad, services both Asia and Africa. Its Agri-Business Incubator (ABI) is part of the Network of Indian Agri-Business Incubators (NIABI), an initiative under ICAR's National Agricultural Innovation Project (NAIP), funded by the World Bank. NIABI's mission is "to enhance agri-business development and impacts on agriculture through co-business incubation".
Asia's small farmers know too well the effects of when control over agriculture is exercised by corporate boardrooms, 'development' finance, international R&D institutions and government departments. In both Asia and Africa there are ground-up efforts to re-localise food and farming systems.
An Asian-African story of agriculture would be very different if instead of being scripted by B2B or G2G, it were told P2P...people-to-people! From Asia what needs to go out to Africa are the lessons people's have learnt from these so-called 'revolutions'. Clearly planting large agri-businesses means profits for a few and power for some at the cost of food sovereignty and agro-biodiversity. Yes, Africa needs investments, but as does Asia, in its own small diverse farming communities.
A true revolution would be in encouraging people's own agricultural innovations not creating new (African) markets for Big Business in agriculture.
(The writer is a Delhi based policy analyst)