awasMIFFE | 29 January 2014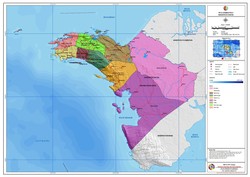 Plan similar to MIFEE in FakFak
Fakfak (on the Southern Coast of West Papua Province), has plans to start a program to develop integrated agribusiness similar to MIFEE in Merauke. It turns out that the program's "designer", (Ir. Omah Laduani Ladamay, MSi) the current head of the Fakfak Agriculture Service, is a former member of the MIFEE team in Merauke. The planned investments are as follows:
1. Fakfak local government is working together with the Agriculture Ministry to develop an 'agricultural city' (Agropolitan) program in Bomberay and Tomage districts made up of:
- An Oil Palm Plantation of around 30,595.89 hectares to be developed by PT Rimbun Sawit Papua in PT Agoda Rimba Irian's former Forest Management Concession and the Bomberay transmigration zone. The Environmental Impact Assessment is currently being compiled by PT Sucofindo.
- Developing around 100,000 hectares of cattle farming / ranching and transmigration (opening up new transmigration areas SP1 to SP7 in and around Tomage)
- A planned sweetcorn plantation for diet sugar substitute Tropikana Slim (PT Mayora)* and other similar projects covering around 100,000 hectares. (National business groups which are ready to invest include Salim Group and Medco Group)
2. Fakfak Local government to work together with the Ministry of Maritime Affairs & Fisheries on a MINAPOLITAN program (integrated sea fisheries) in the East Fakfak area (areal extent currently unknown as the Master Plan is still being compiled), and further transmigrant arrivals are also planned.
3. A plan to develop an industrial forestry plantation for the pulp and paper industry by the Raja Garuda Mas group from Riau. Three subsidiaries, PT Fakfak Anugrah Abadi (FAA), PT Kreasi Permata Hijau (KPH) and PT Kesatuan Mas Abadi (KMA) plan to develop around 350,000 hectares of Acacia Mangium in an area ranging from Bomberay district to the south of Karas district. The companies are currently in the process of compiling an environmental impact assessment.
The latest information which has been obtained by the Gemapala Fakfak NGO (in 2013) reveals that PT Rimbun Sawit Papua's planned oil palm plantation investment lies between Kampung Otoweri, Tomage District, and Kampung Mbima Jaya in Bomberay District, based on a location permit (SK) from the Fakfak District Head No. 170, dated 30th December 2010, and the technical assessment of the head of the West Papua Forestry and Plantation Service No. 522.1/608, dated 27th December 2010.
Source: Information received from Gemapala Fakfak
* [awasMIFFE note: as far as we are aware Tropikana Slim is a brand owned by the Nutrifood company rather than Mayora, and we are not sure which company is active in Fakfak. Also, as additional information, PT Rimbun Sawit Papua's Jakarta address is the same as several subsidiaries of the Salim Group (Indofood Agri), strongly suggesting a link.]