RFA | 30 January 2014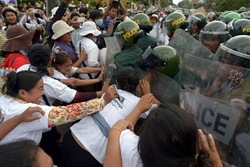 Land protesters clash with riot police at a demonstration in Phnom Penh, Oct. 17, 2013. (Photo AFP)
New Cambodian land disputes despite moratorium on key concessions
At least 41 new land disputes were reported in Cambodia last year despite a government moratorium on the widespread grant of so-called economic land concessions, a rights group said Thursday.
The new cases in 17 locations—including the capital Phnom Penh—added to the 223 land conflicts previously documented around the country since 2007, the Cambodian Center for Human Rights (CCHR) said in a report.
CCHR land program coordinator Van Sophat told RFA's Khmer Service "the main factor contributing to land disputes" stem from social land concessions (SLCs) and reclassification land concessions (RLCs).
SLCs can be used to distribute vacant state lands to poor households or for the general purpose of development, while RLCs allow state public land to be designated for private use.CCHR said most of the land conflicts it had documented so far had been linked to land grabs, ownership problems and evictions.
"Regardless of whether they are social or economic concessions, all affect land that people are relying on," Van Sophat said, adding that his group's findings were based on reports by the media, nongovernmental organizations, affected communities and its own field research.
Van Sophat said that CCHR's findings are not intended to be conclusive and that he believes "there are many more additional cases of land conflicts … which are not being reported."
"The government's current solution for preventing land disputes is not effective," he said.
"If the government truly wants to resolve land disputes, it must reduce the number of land concessions it grants and focus on the existing conflicts. The government should also conduct thorough studies before granting future concessions."
New concessions
CCHR said that it had also monitored and compiled all data regarding land concessions as announced during 2013.
While it did not document any ELCs—which are granted to domestic and foreign companies for development—last year, in line with a government suspension on the practice, CCHR found that the government granted 420 SLCs totaling 502,500 hectares (1.24 million acres) and four RLCs totaling 16 hectares (40 acres).
The number of SLCs granted in 2013 was more than five times greater than that granted in 2012, it said.
In May 2012, Prime Minister Hun Sen temporarily suspended the granting of ELCs to domestic and foreign companies in a move to curb forced evictions in the face of growing protests by villagers, adding that the government would confiscate any concessions that involved land grabs.
Rights groups have said that the temporary measure did not go far enough and a permanent ban was needed.
Van Sophat said that the freeze on ELCs has done little to curb land disputes.
"Despite the current moratorium on ELCs, we have already been receiving information about new cases of land conflicts since the July 2013 National Assembly elections. In addition, thanks to the data collected related to land concessions, we can clearly see that, while the number of ELCs has diminished, the number of SLCs has kept increasing," he said.
"This is a worrying trend, as we know that many people have been evicted to make way to SLCs. Civil society, donors and the Cambodian population must stay on alert, as it is increasingly clear that the moratorium does not mean the end of the land conflict in Cambodia."
In response to CCHR's report, Council of Ministers Spokesman Phay Siphan said that the government's ability to resolve land disputes is limited.
The government can only intervene in disputes between companies and residents, while it is up to the courts to resolve land disputes between private individuals, he said.
UN review
CCHR's new findings follow a meeting between the United Nations Human Rights Council and Cambodian officials Tuesday in Geneva to review Cambodia's progress in implementing a set of 91 UN recommendations focusing on land and other rights during the last Universal Periodic Review of the country's rights record in 2009.
During the review, Mak Sambath, the vice-chair of the National Human Rights Committee of Cambodia, a government body, submitted that Hun Sen's administration had continued to register various types of land in an effort to strengthen ownership and ensure the effectiveness of land use.
To date, the government has registered over 2.8 million land title deeds for 500,000 families, he said.
Mak Sambath said that in some cases, evictions were unavoidable when the majority of the population supported a development plan that would benefit the nation, and that the government has recognized illegal land ownership on a provisional basis for people waiting to find a legal location to resettle.
He said the government had also implemented steps to protect and recognize the land rights of the country's indigenous community.
The U.N. council's 47 member states recommended that Cambodia adopt legislative measures to "strengthen land management mechanisms and to prioritize the settlements of land disputes with full respect for the rule of law," according to a media brief.
Last month, the CCHR said vague policies and weak implementation of the law were fueling a rapid rise in land disputes in Cambodia as the government grants land concessions through a system which benefits the political elite.
The group called for sweeping land reform, including a moratorium on evictions until an ongoing land titling process is complete, and demanded greater transparency on the implementation of the moratorium on land concessions.