Demandez à Herakles Farms d'arrêter sa campagne d'intimidation contre Nasako Besingi et d'autres défenseurs des communautés locales et des forêts.
Herakles Farms a entrepris de faire, dans la région sud-ouest du Cameroun, une plantation de palmiers à huile de 20 000 hectares qui se heurte à la forte opposition des communautés concernées.

Nasako Besingi et son ONG Struggle to Economise Future Environment (SEFE), accompagnés par d'autres activistes et organisations locales, luttent depuis longtemps pour protéger les droits de la population et pour préserver les forêts dans la zone où opère Herakles. Ils ont été soumis à des menaces, des procès, des arrestations et des attaques violentes.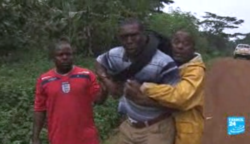 Le 31 décembre 2013, Nasako a été convoqué, à la demande d'Herakles Farms, pour « publication d'informations fausses via internet ». Le procès de Nasako commence le 28 janvier 2014 ; il pourrait être condamné à 6 mois de prison et à des dommages et intérêts de 4 milliers de dollars USA. Le procès intenté par Herakles est basé sur un courrier électronique envoyé par Nasako en août 2012, où il racontait qu'il avait été attaqué par un groupe d'hommes qu'il avait identifiés comme des cadres subalternes d'Herakles Farms. Par chance, une équipe de journalistes français de France24 suivait Nasako ce jour-là. Quand leur camion est apparu, les hommes ont lâché Nasako et se sont enfuis. Herakles Farms admet que les hommes qui ont attaqué Nasako étaient des « fournisseurs de services locaux ». Nasako et quatre de ses collègues sont accusés aussi d'avoir organisé « une réunion publique non déclarée » lorsqu'ils distribuaient à la population des tee-shirts contre Herakles.
Nasako n'est pas la seule cible des menaces d'Herakles et du gouvernement du Cameroun. En septembre dernier, une autre ONG locale, Nature Cameroun, a été suspendue par un fonctionnaire du gouvernement pour avoir informé les résidents sur les dangers que comporte le projet d'Herakles Farms pour leurs moyens de subsistance et leur environnement.
Il est urgent que la communauté internationale soutienne Nasako dans son procès et fasse pression sur Herakles pour qu'elle mette fin à sa campagne d'intimidation contre Nasako et Nature Cameroun.
Vous pouvez envoyer directement un courrier électronique à la compagnie pour lui exiger de retirer son accusation de diffamation contre Nasako et de cesser d'intimider les activistes et les organisations. Les courriers peuvent être adressés au directeur actuel du projet au Cameroun, Patrick Jones (voir plus loin).
Ceux qui souhaitent faire des dons pour contribuer aux frais de justice de Nasako et soutenir la lutte de la communauté locale contre Herakles Farms peuvent le faire ici (Nasako recevra 100 % des contributions):
Vous pouvez aussi contacter Nasako à l'adresse [email protected].
Le 28 janvier 2014, plusieurs ONG ont adressé une lettre aux Rapporteurs spéciaux de l'ONU, lui demandant d'enquêter et d'intervenir au sujet de ces cas de répression et de criminalisation d'organisations locales et d'activistes camerounais.

Pour vous renseigner sur le projet destructeur d'Herakles Farms au Cameroun, veuillez visiter :
SEFE : SEFE qualifie l'accord foncier passé par le Président du Cameroun avec l'entreprise américaine Herakles Farms d'injustice grave et d'entrave aux valeurs conventionnelles.
GREENPEACE et OAKLAND INSTITUTE : Herakles exposed: The truth behind Herakles Farms false promises in Cameroon (2013) ; et Huile de Palme au Cameroun: le Double jeu d'Herakles Farms (2012) [].
GRAIN: Un activiste camerounais menacé d'emprisonnement pour s'être attaqué à un accapareur de terres de Wall Street.
---
Demandez à Herakles Farms d'arrêter sa campagne d'intimidation contre Nasako Besingi et d'autres défenseurs des communautés locales et des forêts.
Monsieur Patrick Jones
Herakles Farms
Cher Monsieur,
Je vous écris pour demander que votre compagnie, Herakles Farms, retire ses accusations contre Nasako Besingi, directeur de SEFE, qu'elle retire aussi la plainte qui a causé la suspension de Nature Cameroun, et qu'elle cesse immédiatement toute forme d'intimidation à l'égard des organisations camerounaises qui, de façon absolument pacifique, défendent les droits de la population et protègent les forêts dans la zone où opère Herakles.
Je vous remercie d'avance de l'attention que vous accorderez à cette demande urgente.
[signature]