AFP | 28 January 2014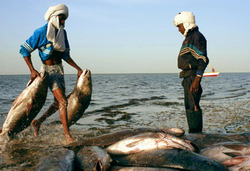 Fisherman in Mauritania
Arabs invest $850m in Mauritania projects
NOUAKCHOTT: Mauritania has attracted funding from Arab organizations totalling more than $850 million at a one-day international investment forum, the government said.
The investments, equivalent to almost a fifth of the size of the economy, will pump cash into fisheries, agriculture, livestock, health and roads while funding imports from Arab countries to the tune of $145 million.
The event brought together some 500 investors, including Saudi Arabia and a large number of Arab and international funds and agencies, the finance ministry said.
The goal of the forum was to raise awareness of "the enormous potential of the country", its investment opportunities and the "attractive" legal framework put in place by the government, according to its organizers.
The government said it had signed five investment deals totalling $856 million (625 million euros) with the Saudi Development Fund, the Rajihi banking group, the Arab Monetary Fund (AMF) and the Arab Institution for Agricultural Development.
President Mohamed Ould Abdel Aziz spoke of Mauritania's committment to "protecting investment, ensuring the full rights of investors and paying particular attention to ensure the best conditions for their activities" as he opened the forum.
The west African nation's economy, heavily dependent on agriculture, has suffered in the past as a result of frequent droughts, but it is rich in minerals such as gold and iron whose exports have helped keep growth high.
According to the finance ministry the economy — estimated by the World Bank to be worth $4.2 billion in 2012 — grew by almost seven percent last year, putting it "in first position in the Arab world and in Africa."