The East African | 25 January 2014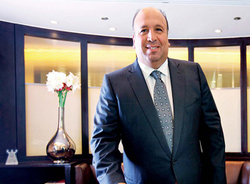 "If you are satisfied with a one per cent return on your investment, buy 10-year Swiss bonds. Otherwise, go to Africa." Founder of Citadel Capital, Ahmed Heikal
Citadel Capital's plan for East Africa's growing businesses
By Isaac Khisa
The Egyptian private equity firm has been growing its investments in East Africa. As it embarks on a transition to an investment company, the founder Ahmed Heikal talks to The EastAfrican's Isaac Khisa about their plans for the region and the continent.
Why is Citadel Capital focusing on investing in Africa, a continent viewed as being fraught with risk?
We look at it this way: If you are satisfied with a one per cent return on your investment, buy 10-year Swiss bonds. Otherwise, go to Africa. There is no better place to invest. Our continent is rife with investment opportunities.
We see Africa as the last great frontier for investment. It is a one-billion-person consumer market and will be home to the world's largest working-age population by 2040.
Across the continent, there is a need for tens of billions of dollars in infrastructure investments every year, and an abundance of natural resources for industrial use.
What competitive advantage do you have, with so many other funds coming to Africa?
We are not only investing for a short-term return; we are building regional champions. Let's take two examples: First, mining. Egypt is rich is calcium carbonate deposits.
A global multinational may see these deposits as an opportunity to export raw materials to feed an industrial base elsewhere. We, however, saw it as an opportunity to build a company that refines and adds value to calcium carbonate. Now, one of our portfolio companies exports polymers and paper, some of the highest grade final products available globally.
Second, consider agriculture. For over 100 years, East Africa received massive foreign investment in agriculture, but the biggest part of it was in coffee and tea, which were exported in raw, semi-processed form. When we looked at the opportunity to invest in agriculture, we went for large-scale commercial farming to produce maize, sorghum and sesame — all for local consumption.
Many countries in the world, including China and South Korea, are looking at Africa as the next investment destination. What should African leaders do to ensure their people benefit from these investments?
I'm not sure I have any suggestion that policy makers in Kenya, Uganda, Egypt, Ethiopia and other markets are not employing: Solicit investments not just in raw resource extraction, but in adding value to exports and in game-changing infrastructure.
At the same time, they need to ensure their regulatory frameworks are fair, not just to foreign and domestic investors, but to workers and taxpayers as well and seek ways of funnelling investment into social services, including health care and education.
Ideally, having the private sector take on more of the infrastructure burden will free up public funds to shore up health, education and welfare services. It is time for African nations to start looking at the feasibility of sovereign wealth funds.
There are reports that Citadel Capital plans to cultivate up to 40,000 acres in South Sudan. How far you have gone with the project, and why did you think of investing in agriculture in the new nation, and not in oil?
Wafra, one of our agrifoods platforms, holds the rights to acres of farmland in Sudan and South Sudan. Both projects involve large-scale cultivation of crops, including sorghum, maize, sunflower, rice and various grain legumes for local consumption.
It is not that we are uninterested in oil. But we want to focus on our five core industries: Energy, transport, agrifoods, cement and mining. These are the industries we know best — where our experts and investment professionals have the deepest experience. We invest in Sudanese agrifoods through Wafra and Gozour (which controls the confectioner Al-Musharraf in Sudan), in river transportation in both nations, agrifoods in South Sudan, and in cement in Sudan through Al-Takamol. We also invest in mining via Ascom in Sudan, among other countries.
Citadel Capital controls investments worth $9.5 billion, but posted losses in 2011 and 2012. How do you plan to return the company to profitability?
The secret is in our transformation from a hybrid private equity firm into an investment company. Key to this move is our recently announced $528 million share issue, the proceeds of which will allow us to gain majority ownership in most of our core platform companies.
We were hit by a storm — a global financial crisis, the Gulf debt crisis, then two revolutions in Egypt alongside the Arab Spring. We are now emerging from that storm. We are slowly entering a curve that will become steeper towards the end of 2016.
The $3.7 billion Egyptian Refining Company in Egypt will more than halve Egypt's diesel imports and cut sulphur emissions by nearly a third when it begins production in 2016. We reached financial close on the project in 2012, and it is now in the build-out phase. That leaves us with Mashreq, our greenfield fuel bunkering and logistics operation in Port Said in Egypt, and Djelfa, our greenfield cement plant in Algeria, where we need to make progress.
Rift Valley Railways in Kenya and Uganda, ASEC Holding (which spans Egypt, Sudan, Algeria, Iraq), Ascom (in Egypt, Ethiopia, Sudan) and Gozour (Egypt, Sudan) are turning the corner. We believe we will wrap up the share issue early this year, and once we complete our greenfields, we will have put all our investments on the path to profitability. That is when we will start looking at new investments in Egypt and East Africa.
The Kenya and Uganda governments believe RVR is underperforming. Why is this?
I couldn't disagree more. Whether it is the introduction of the GPS-based automated train warranting system that makes RVR a technologically sophisticated rail operation or the relaunch of the Tororo-Gulu-Pakwach line in Uganda for the first time in 20 years, our recent purchase of 20 new locomotives, the building of 73 kilometres of new rail between Mombasa and Nairobi, or our aggressive campaign to recondition existing rolling stock and locomotives at workshops in Kenya and Uganda, RVR is a success story.
The first four years of the RVR concession — from 2006 to 2010 — were wasted before the original franchisee was replaced by an amended covenant signed by new investors, Citadel Capital, TransCentury and BOMI Holdings, in late 2010. It is unfair and inaccurate to blame the current RVR shareholders and management for four "lost years."
We though RVR needed $25 million in investment under the first concession and $40 million in the second. But after a detailed inspection of the 2,300km of track and other assets, the current shareholders found that even the $40 million investment threshold was an underestimation by a factor of seven.
That's why we worked with our partners between August 2010 and September 2011 to line up full funding for a $287 million turnaround. To date, $156 million has been injected into the railway, and we are starting to see the effects of these investments.
Kenya, Uganda and Rwanda are constructing a standard gauge railway line. How do you think the planned railway line from Mombasa to Kigali will affect or shape your investment plans?
We are not unsettled. We are building RVR into a world-class operator offering reliable, best-in-class service. We have done extensive studies looking at different rail technologies in various economies and transport markets similar to East Africa, and our conclusion is that the standard gauge rail is not cheaper, more reliable or more efficient than RVR's narrow gauge.
It is, however, faster, but you need to remember that freight clients do not care if a container arrives in Nairobi in 16 hours or eight hours, but passengers do.
So, in a sense, the standard gauge will not affect RVR's competitiveness in our core market — freight.