SUNA | 27 January 2014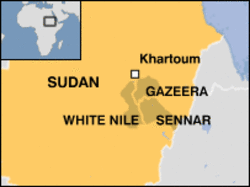 SUNA reports that the Sennar State government signed an MoU with an Algerian company engaged in the production of sugar and edible oils, covering 405,000 acres.
Sennar State signs MoU with Algerian company for production of sugar, edible oils
Sennar State government signed a Memorandum of Understanding (MoU) with the Algerian company engaged in the production of sugar and edible oils.
This came during a three day visit of Sennar Governor, Ahmed Abbas to the State of Algeria.
The MoU included the construction of a factory for the production of sugar in Sennar East Locality in an area of 205 thousand acres to produce 500 thousand tons of sugar annually as a first stage, production of oilseeds in the area of 200 thousand acres in different parts of the state, and the introduction of new lands for the company's investments for the production of sugar cane.
The Governor said that this memorandum will be submitted to the councils of ministers and the legislative and farmers for discussion in preparation for the signing of the final agreement with the company. He stressed that this step comes as part of the state government seeking to attract investment to increase the income of farmers and employment of a larger number of workers, pointing out that the signing came after frequent visits of the company and its technicians to Sennar State to get to know the potential of the state. Abbas explained that the state delegation toured the company's headquarters and its branches in Algeria to stand on its technical potential and financial capacity and its production of cane sugar and edible oils.