The Hindu | 23 January 2014
Cabinet to take decision on FDI in farm land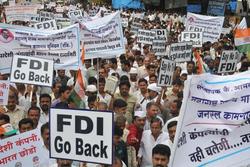 A file photo of traders protesting against FDI in Mumbai. (Photo: HT)
by SMRITI KAK RAMACHANDRAN
The UPA government has formed a three-member Cabinet committee to examine the possibility of opening up agricultural land to Foreign Direct Investment (FDI), following a proposal by the Urban Development Ministry on letting foreign realtors buy agricultural land.
The committee includes Urban Development Minister Kamal Nath, Finance Minister P. Chidambaram and Commerce and Industry Minister Anand Sharma.
At present, FDI is banned in farm land. Further, Indian banking rules disallow loans for the purchase of farm land even for domestic investors — except in the case of large-scale projects — to safeguard against speculative land acquisition and hoarding.
The Ministry's argument is that as farm land is already being acquired for township development, FDI would only help raise more funds for the purpose. Real estate developers would in any case be applying for land use change after acquiring farm land, the Ministry said.
"When the proposal was put forth by the Ministry, the Department of Industrial Policy and Promotion (DIPP) declined to comment and said the decision rests with the Reserve Bank of India. Thereafter, there were concerns from other Ministries over relaxation of norms. So the Cabinet has decided that a three-member sub-committee will take a call on the issue," an official said.
Another proposal on relaxing the FDI regulations for the construction sector has been hanging fire due to lack of consensus on a host of issues, including the policy on purchases of agricultural land.
"As of now banks do not give loans for purchase of land, unless it is part of a large development project which will generate revenue. A common complaint against builders is that they collect money from prospective home buyers and then make them wait because they scout for land and apply for change of land use policy. All this eventually delays projects," the official said.