Xinhua | 23 January 2014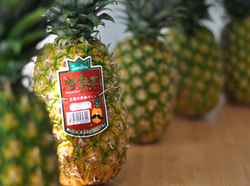 The New People's Army launched the actions against Sumifru Corp because of its land grabbing and the destructive operations of its pineapple and banana plantations.
Leftist rebels say responsible for attack on Japanese firm in S. Philippines
MANILA, Jan. 23 (Xinhua) -- Leftist rebel group New People's Army (NPA) on Thursday claimed responsibility for the attack on a warehouse of Japanese multinational firm Sumifru Corp. in the southern Philippine province of Bukidnon.
In a statement issued by the NPA's Mt. Kitanglad Sub-Regional Command, leftist rebels said they attacked the company's warehouse in Barobo Village, Valencia City because of Sumifru's "anti-people activities."
"The NPA launched the punitive action against Sumifru because of its anti-people activities, including land grabbing, the anti- labor and environmentally-destructive operations of their pineapple and banana plantations," said Mamerto Bagani, the sub- regional command's spokesman.
A military official earlier said 10 armed men wearing bonnets barged into the warehouse of Sumifru Corp. on Jan. 17.
Bagani said Sumifru Corp. incurred damages amounting to 11 million pesos (243,000 U.S. dollars) after NPAs attacked its banana packing house and paralyzed a cargo truck, a backhoe, six assorted machines and destroyed three laptop computers.
He said a shotgun and a caliber 38 revolver were also seized from the company security guards.
The Philippine military had earlier discounted the involvement of the NPAs in the attack.
Leftist rebels have harassed Sumifru in the past. The NPAs burned four trucks of the company in North Cotabato province in August last year and a container van in October 2011.
Sumifru, a subsidiary of Japanese firm Sumitomo Corp., is engaged in the production, distribution, and export of fresh fruits.