Kyodo News | 13 Janaury 2014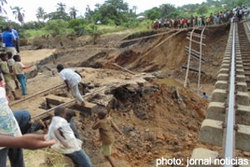 Construction of the Nacala Railway, which will be used to export agricultural products to Asia, under the ProSavana programme
Increasing criticism over the Japanese agricultural program in Mozambique as 'Land grabbing'
by Masaki Yoshida
(
Translated from Japanese
)
In Mozambique, where Japanese Prime Minister Shinzo Abe visited, farmers and civil society organizations responded strongly over the large scale agricultural program, planned in the north area of the country, which will be lead by Japan cooperating with Brazil. The program is aiming to reduce poverty and increase the food production but there is rising concern among local farmers that this agricultural program could result in land grabbing'.
'The program will end up with grabbing land from local farmers. It will not help our sustainable development', Agostinho Bento (28), a policy advocacy officer of the Mozambique's largest famers' organization, União Nacional de Camponeses (UNAC), emphasized in Maputo, the capital of the country.
Japan International Cooperation Agency (JICA) says that the agricultural program is named 'ProSavana', which will develop untouched land in the large tropical savanna of northern Mozambique and will produce soy bean and other agricultural crops. In 1970s, Japan provided its agricultural assistance to Brazil and developed agricultural land in the Cerrado, the tropical savanna of Brazil, which is now serving as an inspiration for ProSavana.
Most of the people in Mozambique are small scale famers. The program sows fear that they will be forced to be resettled elsewhere. In May last year, UNAC and other groups aired an open letter to the leaders of the three countries, asking for the suspension of the program.
The representatives of UNAC visited Yokohama, Japan, to attend Tokyo International Conference on African Development (TICAD) last year and submitted the letter to Prime Minister Shinzo Abe. But they have not received any responses from these three countries. They also asked the Japanese and Brazilian ambassadors stationed in Maputo to explain the program, but their request was rejected.
Vanessa Cavanelas (36), who is a member of civil society organizations that signed the letter, says 'the project is lacking 'transparency' and there remains a concern about its impact to the environment'. She also mentions that this program is similar to the Chinese's involvement with Africa, which is often criticized for setting aside the local people.
The Japanese government explains that this kind of criticism stems from 'misunderstandings'. However, Bento criticizes that Japan is thrusting the program without understanding the real agricultural situation in Mozambique. He also says that what to cultivate should be decided by local farmers themselves.