Canberra Times | 23 Janaury 2014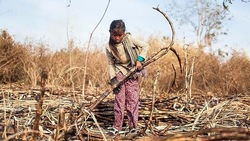 School-aged children have been photographed working in a Cambodian sugar plantation financed by Australia's ANZ Bank in potential breach of the international convention on child labour. (Photo: Nicolas Axelrod)
ANZ under fire for loans to controversial Cambodian sugar plantation
ANZ is financing a Cambodian sugar plantation that has involved child labour, military-backed land grabs, forced evictions and food shortages.
ANZ's support of the Phnom Penh Sugar company's plantation is disclosed in confidential audits which reveal the project is beset by a series of social and environmental problems. The revelation raises questions over the bank's due diligence process and its compliance with a global ethical banking code it is a signatory to, as well as its own policies.
This week ANZ executives met representatives of the more than 1000 families forced d from their homes in 2010 to make way for the sugar crop owned by Ly Yong Phat, one of Cambodia's richest men and a senator from its ruling political party.
The executives were told of a former Khmer Rouge battalion's involvement in the evictions and how families got $100 compensation for land that once provided them with food and a livelihood.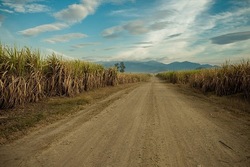 View of the sugar cane plantation of Omlaing that covers more than 19.000 hectares. Omlaing commune, Kompong Speu Province - Cambodia. (Photo: Thomas Cristofoletti / Ruom)
The executives were also told of food shortages because resettlement sites were located on infertile land and of the destruction of community forests and crops. They heard how school-aged children were working in the cane fields to help their families earn money instead of attending class.
The audits, prepared for ANZ and PP Sugar, reveal Senator Phat's company has failed to ensure resettled families have adequate food supplies. Nor has the company implemented environmental, health and social management programs required by ANZ to meet its ethical lending obligations.
While ANZ would not disclose the amount it has lent to PP Sugar since 2010, it is believed to be tens of millions of dollars, through its Cambodian subsidiary, ANZ Royal Bank. The Royal group is owned by another Cambodian tycoon, Kith Meng. Mr Meng and Senator Phat are close associates of Cambodia's Prime Minister Hun Sen.
An ANZ spokesman said on Wednesday that the bank was monitoring the situation in Cambodia and this week had asked PP Sugar to engage affected communities to resolve problems. He said the bank would review PP Sugar's social and environmental impact assessments - which have yet to be done properly - and the company's plans to mitigate the project's negative impacts.
Asked if ANZ would withdraw its financial support if the situation did not improve, the spokesman said: ''Where we have found that a client does not meet our environmental and social standards and they are not willing to adapt their practices, ANZ has declined funding or exited the relationship.''
The government gave Senator Phat's company a concession to establish sugar plantations on about 20,000 hectares of farmland in Cambodia's Kampong Sepu Province, the most impoverished region.
An investigation last year by non-government organisations, Equitable Cambodia and Inclusive Development International, discovered a considerable number of school-aged children working in the sugar plantation in potential breach of the international convention on child labour.
When photographs of young children working in the cane field were made public last year, PP Sugar stated that it was unaware of the practice, blamed contractors for hiring the children and introduced a policy to fine or sack any contractors found using under-age children.
The community representatives who met ANZ executives this week maintained that children were still working at the plantation because their families' forced relocation from their farms had deprived their parents of a means to earn an income.
But a September 2013 audit done by Bangkok-based International Environmental Management Company at the request of PP Sugar downplays the matter of child labour, saying only 10 of 100 villagers surveyed said it remained a big issue. However, the audit noted young children were still on the plantation while their parents worked.
The 2013 audit reveals PP Sugar has not carried out any checks to determine if re-settled families had enough food. One community was assessed as having a ''potential food security risk''.
The 58-page 2010 audit concluded PP Sugar had provided or had plans for adequate housing, food, education and employment for affected families. However, it appears the audit team failed to visit the majority of re-settlement sites and talked to only a handful of villagers before making its conclusion.
David Pred, the managing associate of Inclusive Development International, said ANZ should explain to its shareholders why it financed Senator Phat's company, especially when the English-language Cambodian press had regularly reported on its links to the army and role in forced evictions.
"This case seriously calls into question the credibility of ANZ's due diligence process. Since ANZ does not disclose any of the corporate loans it makes, its shareholders are only left with its good word that it actually upholds the rigorous standards that it purports to apply to its corporate lending operations," Mr Pred said.
Neither PP Sugar nor International Environmental Management responded to questions.
[email protected]