Times of Zambia | 19 January 2014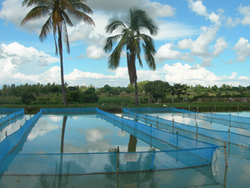 Bangladeshi investors given 250 hectares in Mwansabombwe
By BEN PHIRI
GOVERNMENT has granted 250 hectares of land to Bangladeshi investors who will invest more than US$1 million in the development of agriculture in Mwansabombwe District in Luapula Province.
About 100 hectares have been earmarked for fish farming which would generate more than 500 job opportunities for the locals while three hectares would be used to set up an agro training centre.
Mwansabombwe Member of Parliament Rogers Mwewa said more than $600,000 had since been invested in the project which had so far employed an initial 105 workers.
In an interview in Kawambwa, Mr Mwewa said the fish farming project would be carried out at Pembe lagoon, about 500 metres from Chief Mwata Kazembe's palace.
"The Government has granted land to Bangladeshi investors who will set up a fish farm and other agro projects in the area. The project will generate more than 500 jobs for the locals," Mr Mwewa said.
The fish caging project on Pembe lagoon would hold about 1,300 fish while a dam to hold thousands of fingerlings was currently under construction.
Mr Mwewa also said Heifer International would soon empower 32 groups with more than 200 cattle and 3,000 goats to help improve their livelihood.
In addition, a poultry project would be set up and more than 3,000 chicks would be given to the beneficiaries who would also receive at least three incubators from the Government.
Mwansabombwe is endowed with fertile soil and plenty of water forming lagoons along the banks of the Luapula River, which drains into Lake Mweru in the north.
Meanwhile, Mwansabombwe Constituency Patriotic Front chairperson James Kanyembo has paid glowing tribute to the Government for coming up with a project to expand and improve water reticulation in the area.
Mr Kanyembo said the project, which would be carried out by Chinese contractors, would provide clean piped water to Mwansabombwe, Mbereshi, Salanga, Chipunka and Kalanga.