Business Mirror | 19 January 2014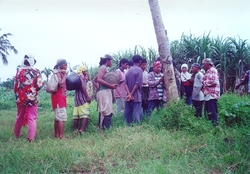 Farmers' economic potential blocked by land grabbing in Asean
Written by Alladin S. Diega
COUNTRIES able to hurdle social and political tensions from land issues progress faster than those hobbled by such unrests especially rooted in inequitable land distribution, activists said on Friday.
On Friday international civil-society groups, small land holders and farmers, forest-based communities and indigenous groups raised alarm on "a new rush of investments" in farms and forest lands in Asean that threatens food and livelihood security in member-nations of the Association of Southeast Asian Nations.
"Food security and economic advancement is possible, while respecting the rights of the marginalized groups in our society," Maricel Tolentino of the Asian NGO Coalition for Agrarian Reform and Rural Development said.
Tolentino, hence, called on Asean states to implement a coherent and comprehensive policy on land use and governance.
The call was followed by an Asian Peoples' Land Rights Tribunal held in Manila on January 16 and 17. Farmers from Aurora province and the Mamanwa tribal leaders in Agusan del Norte presented their complaints against big investors that they said left them without home and their livelihoods threatened.
Similar land-grabbing cases were reported in Cambodia, occupying almost 40,000 hectares of agricultural lands for sugar plantation, and in Indonesia, where 17,500 hectares of forest lands were redirected to palm-oil plantation.
Mamanwa indigenous peoples are accusing private firm Mindoro Resources Ltd. in "dividing our otherwise peaceful community."
Their representatives said during Friday's forum that the Mamanwa tribe has occupied "for centuries" areas covering the village of Bunga in Jabonga, Agusan del Norte.
These areas, they said, are now threatened by Mindoro Resources, a company engaged in nickel, gold and copper-gold exploration in area.
"Notwithstanding the involvement of political families and personalities, and powerful financial institutions and big companies in the cases presented in the tribunal, the interest of rural communities who are the primary stakeholders of the land should be upheld," a conference document said.
The BusinessMirror attempted to contact Mindoro Resources but has since failed to do so by January 19.
Another case from the Philippines discussed by conference participants included the campuses of the Aurora State College of Technology (Ascot) in Casiguran, Aurora province.
According to a document presented during the conference, Ascot officials have refused to grant the land of 56 farmers who are beneficiaries of the Comprehensive Agrarian Reform Program (CARP) and have been cultivating the 105 hectares for over 50 years.
The land in question is also within the Aurora Pacific Economic Zone and Freeport Authority (Apeco) economic zone, which plans to convert the use of the area from agricultural to industrial.
A case in Cambodia, on the other hand, involved private firms partly owned by a billionaire senator.
The document didn't say who this lawmaker is but said the property is in Koh Kong, Cambodia.
Approximately, 2,879 people filed complaints against corporations that were granted economic land concessions for sugar plantations that encroached on their farmlands, and which, among other things, destroyed their crops, caused damage to their cattle and buffalo, and effectively seized their farmlands, according to a case brief.
The document also reported on the land of indigenous peoples in Banggai, Central Sulawesi, Indonesia, which was being developed for palm-oil plantation.
The conference participants said the farmers are accusing the unnamed private company of forcibly taking 17,800 hectares of their land, displacing communities in 32 villages and encroaching on a conservation area.
Conference participants discussed a total of four cases presented by aggrieved communities from Cambodia, Indonesia and the Philippines.
Tribunal participants said in a statement they are calling on state officials to end the use of state apparatus to promote investments that result to displacement, evictions and other violations of human rights, and conduct speedy, impartial investigations and fact-finding missions to restore dignity and justice to affected communities.
"It is the responsibility of the state to uphold community rights and environmental concerns over industrial interests with respect to land investments," the document also said.
The governments should shift from "development aggression to development opportunities," the coalition said through the statement.
Tribunal participants also called on investors to recognize the right of local communities, especially the indigenous peoples, to give or withhold their free prior and informed consent, including their customary laws and rights, traditional institutions and decision-making processes, and community protocols and procedures.
Aside from Tolentino's group Angoc, discussants included representatives from non-governmental groups Land Watch Asia and Oxfam and the University of the Philippines. Other discussants were Sen. Aquilino Pimentel Jr.; Cagayan de Oro Archbishop Antonio Ledesma; members of the Commission on Human Rights; Commission of Right to Information; sociologists; and academic experts from Bangladesh, Indonesia.