Wall Street Journal | 13 January 2014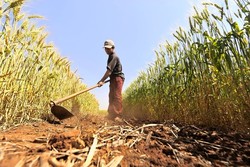 Nidera has access to Latin American grain, including its own farming operations on
22,000 ha in Argentina
. Above, a wheat field in Paraguay. (Photo: Agence France-Presse/Getty Images)
China seeks to invest in Dutch grain trader
By Prudence Ho
HONG KONG—Chinese state-owned food company Cofco Corp. offered to buy a minority stake in Netherlands-based grain trader Nidera BV, the latest move by the world's most-populous country to secure access to food resources.
Cofco submitted a binding bid for the stake last month, a person familiar with the transaction said. The stake is valued at around US$250 million, but it wasn't clear how much Cofco offered to pay. The terms of the deal were being discussed, the person said.
Cofco couldn't be reached for comment, and Nidera declined to comment.
Although Cofco is China's largest state-owned grain trader, the company has eschewed multibillion-dollar overseas deals, preferring to buy smaller assets. In 2011 Cofco bought Australian sugar producer Tully Sugar Ltd. for about US$145 million. The Chinese company also has bought vineyards in Chile and France.
A stake in Rotterdam-based Nidera would give Cofco access to grain-producing areas in Latin America. Nidera, founded in the 1920s, took its name from the first letters of countries where it had dealings: the Netherlands, the (East) Indies, Deutschland, England, Russia and Argentina. The closely held company employs about 3,800 people in 20 countries.
Cofco units include China Mengniu Dairy Co. 2319.HK +0.41% , beverage and wine producer China Foods Ltd. 0506.HK +1.32% and China Agri-Industries Holdings Ltd. 0606.HK -0.82% , which processes and trades commodities such as oilseeds and rice. Cofco also has operations in areas such as real-estate development.
Chinese companies are eager to gain access to agricultural resources as increasing urbanization changes domestic food tastes and drives demand. Meanwhile, scandals within China over tainted food have raised concerns about food safety. The country's growing wealth is changing the nature of food trade. China became a net importer of rice in 2011, and the gap between imports and exports has widened in recent years.
China's Shuanghui International Holdings Ltd. last year bought U.S. pork processor Smithfield Foods Inc. for US$7.1 billion, in the mainland's biggest acquisition of a U.S. company. Shuanghui executives heralded the purchase as a chance to increase the supply of safe, high-quality products in China, the world's largest pork market.
Shanghai-based Bright Food Group Co. in 2012 acquired U.K. cereal maker Weetabix Food Co., in a nod to growing demand for health foods in China. In 2009, sovereign-wealth fund China Investment Corp. bought 15% of Noble Group Ltd. N21.SG -0.96% , which is listed in Singapore and manages supply chains in agricultural commodities, energy products and grain.
A deal between Cofco and Nidera would follow similar deals struck by Japanese trading houses, which analysts say are becoming increasingly important players in a global grain trade dominated by a handful of firms.
The biggest of such deals was Marubeni Corp.'s 8002.TO -0.93% US$3.6 billion acquisition of U.S.-based Gavilon Group LLC in 2012, making Marubeni one of the biggest grain traders in the world. Toyota Tsusho Corp. 8015.TO -4.36% the same year took a minority stake in a grain joint venture of Australia's PentAG and Nidera, a deal the companies said would improve Japan's access to grain and offer the joint venture wider access to Asian markets. Japan is the world's biggest importer of corn.
—Isabella Steger in Hong Kong, Chuin-Wei Yap in Beijing and Maarten van Tartwijk in Amsterdam contributed to this article.
Write to Prudence Ho at
[email protected]