Asahi Shimbun | 13 January 2014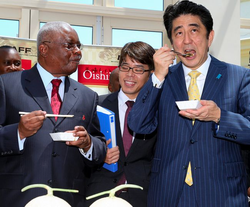 Mozambique President Armando Guebuza and Prime Minister Shinzo Abe taste Japanese food during an event to promote Japanese cuisine and its ingredients in Maputo on Jan. 12. (Photo: Shogo Koshida)
Abe pitches 'business diplomacy' in Africa to counter China
MAPUTO, Mozambique--Prime Minister Shinzo Abe is on a mission of business diplomacy in his current trip to Africa to secure valuable natural resources for Japan, as rival China also is making a major push into the world's second largest continent.
"Africa is the frontier for Japanese diplomacy," Abe said prior to leaving Japan.
Abe has stressed in the past that it is extremely important for Japan economically to incorporate the activity being generated in Africa.
His current visit to Mozambique, where he arrived Jan. 11, is considered paramount because Japan has high expectations for that nation.
A major reason is the discovery of some of the world's largest gas fields in the southeast African nation since around 2011. Estimated gas reserves have been set at 100 trillion cubic feet, which would represent more than 20 years of annual gas consumption in Japan.
Major trading company Mitsui & Co. obtained a 20-percent stake from Anadarko Petroleum Corp. of the United States. Plans call for the annual production of 10 million tons of liquefied natural gas in 2018.
"There is the possibility this could become the third major (LNG) center behind Qatar and Australia," said Taira Nozaki, general manager of Mitsui's office in Mozambique. "Diversifying the sources for energy will lead to a stable supply."
There are also plans for the development of agricultural lands.
A major program being promoted by Japan is the ProSAVANA project in northern Mozambique, which is designed to turn an area of about 11 million hectares into a major grain production site. The Japan International Cooperation Agency is working with Mozambique and Brazil on the project.
During a Jan. 12 meeting with Mozambique President Armando Guebuza, Abe announced a plan to provide about 70 billion yen ($676 million) in official development assistance until 2017 for the development of the Nacala corridor region that lies in northern coastal Mozambique. In addition to the natural resources in the region, there is also a plan to improve the social infrastructure around Nacala, which faces the Indian Ocean and is expected to play a major role as an export base.
A major reason for Japan's investment and agricultural land development are the moves being made by China.
According to AidData, a U.S. research organization, between 2000 and 2011, China invested $75 billion in Africa for various development projects. The money has gone not only into resources development, but also for the construction of roads and harbors, as well as in the fields of finance, retailing, education and medicine.
There are an estimated 1 million Chinese living in Africa, about 100 times more than the number of Japanese on the continent.
Chinese leaders have also visited Africa frequently. As Abe visits three nations in Africa, Chinese Foreign Minister Wang Yi also began a four-nation trip to Africa on Jan. 6.
However, experts warn against simply competing with China.
"Japan has gained a certain amount of goodwill in Africa with its history of assistance programs," said Sayaka Funada-Classen, an associate professor of African studies at the Tokyo University of Foreign Studies. "That appraisal will be thrown away if it only tries to do the same thing as China in a race to provide support."
Abe's visit to Mozambique is designed to turn the nation into a strategic base in Africa as Japan tries to counter China. A Foreign Ministry source said Mozambique "is a nation with the highest expectations for growth in the world."
Accompanying Abe are representatives of Japanese corporations from a wide range of sectors, including trading firms as well as companies in natural resources, social infrastructure, manufacturing, education and medicine.
Abe attended an investment forum in Maputo, the capital of Mozambique, and also arranged for the company representatives to meet with Guebuza.
Japan has been involved in Mozambique beyond business issues. The Self-Defense Forces were sent to a United Nations peacekeeping operation in Mozambique in 1993 after the end of a civil war.
Participating in peacekeeping missions by the SDF is a major example of the visionary pacifism based on international cooperation that Abe has stressed as a major pillar of his diplomacy.
Prior to visiting Mozambique, Abe stopped in Ivory Coast for a meeting with President Alassane Ouattara. The two issued a joint statement that included an agreement for Japan to provide about $7.7 million to help former soldiers who fought in the civil war there find civilian jobs, as well as to cooperate in social infrastructure construction.
(This article was written by Tadashi Sugiyama and Kotaro Ono.)
---
Bernama | 13 Janaury 2014
Japan Pledges Loans Of 70 Billion Yen To Mozambique
MAPUTO (Mozambique), Jan 13 (Bernama) -- The Japanese government has pledged to disburse, over the next five years, a financial package to the value of 70 billion yen (about US$672 million) for Mozambican development programmes in areas such as infrastructures and agricultural growth, Mozambican News Agency (AIM) reported.
The aid was announced in Maputo on Sunday after talks between Mozambican President Armando Guebuza and Japanese Prime Minister Shinzo Abe. This is the first time that a Japanese Prime Minister has visited Mozambique.
Much of the funding, which takes the form of loans, will go towards improving the state of roads, in the north of the country, particularly in the northern development corridor, which runs from the port of Nacala through Nampula and Niassa provinces to the Malawian border.
Another slice of the Japanese aid will go towards the ProSavana project, a triangular cooperation agreement between Mozambique, Japan and Brazil intended to improve agricultural production in Nampula, Niassa and Zambezia.
Specific agreements were signed by Mozambican Foreign Minister Oldemiro Baloi and Japanese ambassador Eiji Hashimoto for the building of a power station, and for the construction of a Higher Institute of Health Sciences.
A memorandum of understanding was also signed for interchanges between the Mozambican Agricultural Research Institute (IIAM), and the Japan International Research Centre for Agricultural Sciences.
In the area of education, agreements on academic research was signed between two Mozambican universities, the Eduardo Mondlane University, based in Maputo, and UniLurio, in Nampula, with the Japanese universities of Akita and Ehime.
After the talks with Abe, Guebuza told reporters "we have reaffirmed the need to continue to deepen and diversify our relationship in all spheres. For our part, we praised the continued Japanese intervention in agriculture, staff training, infrastructures, energy and the development of natural resources".
A major stress in the discussions, he added, was the need to involve the business sector - and so, later on Sunday, Guebuza and Abe took part in a seminar on Mozambique's business potential and opportunities.
Guebuza also praised Japanese assistance to ProSavana which "is intended to promote the integrated development of the Nacala Corridor, and raise the productivity of our peasants".
A joint communique between the Mozambican and Japanese delegations announced a new partnership, to be known as the "Japan-Mozambique Initiative for Revitalising and Accelerating Development". The acronym for this partnership is "AMIZADE" (which is also the Portuguese word meaning "friendship").
The document noted Guebuza's appreciation "for Japan's leading role in contributing to Africa's development, especially through TICAD (Tokyo International Conference on African Development)".
The two leaders "welcomed the fact that the Japanese private sector's interests in Mozambique are steadily increasing in a wide range of areas, including natural resource and energy development such as natural gas and coal".
Guebuza pledged that he would "give full support to facilitate smooth progress of the existing investment projects and make further efforts to provide a safe, secure and stable investment environment, including through developing and implementing appropriate and predictable legislation and policies as well as facilitating smooth customs procedures".
Guebuza and Abe both "reaffirmed their commitment to continue close dialogue with civil society and rural communities in the ProSavana project, and to work together in improving the lives of local communities through sustainable agricultural development and poverty reduction for smallholders in the Nacala Corridor region".