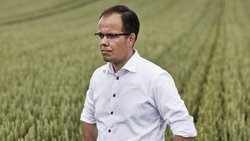 "I'm very proud that we have managed the creation of the (Danish Farmland) Fund," said AP Pension CEO Søren Dal Thomsen.
aiCIO | January 13, 2014
Danes Turn to the Great Outdoors for Stable Returns
Denmark's largest pension funds have invested in a climate fund, an offshore wind project, and a New Zealand farm.
by Charlie Thomas
(January 13, 2014) — Denmark's leading pension funds have started the year with a broad range of sustainable, responsible investment initiatives, continuing where they left off in 2013.
PensionDanmarkhas committed DKK 200 million (€26.8 million) to the Danish Climate Investment Fund, which was established at the initiative of the Danish Investment Fund For Developing Countries.
The Danish Investment Fund for Developing Countries was established more than a decade ago by the Danish government in It offers advice and risk capital to Danish companies investing in developing countries and emerging markets.
PKA and PBU pension funds have also committed to the climate fund, which when combined with the money invested by the Danish government and other private investors will total DKK1.2 billon (€160 million).
"We are expecting the Danish Climate Investment Fund to deliver solid returns to our members in the coming years, while serving to boost the standing of Danish companies in the new growth markets," said Torben Möger Pedersen, CEO of PensionDanmark, who will also be a member of the fund's investment committee.
Also with sustainable investment on their minds, Industriens Pension has combined with a number of other investors to pledge $3 billion into the Butendiek Offshore Wind Park, located in the German North Sea.
"With this investment, we have ensured our members a stable return for many years to come. The project is to create Danish jobs and contribute to the transition to renewable energy," said Investment Director of Industriens Pension Jan Østergaard.
And finally, a poorly performing bonds environment has led AP Pension to set up its own special agricultural investment fund and buy its first farm.
Believed to be the first Danish fund to set up such an investment vehicle, the Danish Farmland Fund currently has DKK600 million (€80.4 million) in assets. At the turn of the year, it bought its first holding—a 190-acre cattle farm in New Zealand. AP said it expects to buy a further 10 farms in the coming months.
The opportunity has arisen as many young farmers are finding it increasingly difficult to borrow money to keep their farms going, or to buy them outright, said AP Pension. As the returns from fixed income assets had continued to disappoint, AP—among many other pension funds—has decided to seek out alternative investment opportunities with good returns.
"I'm very proud that we have managed the creation of the (Danish Farmland) Fund," said AP Pension CEO Søren Dal Thomsen.
"With investments in Danish agriculture, we expect to achieve an attractive return for our clients, while also helping some of the most skilled farmers who previously struggled in vain to borrow money to buy a farm."
Under the deal, AP Pension fund owns the farm buildings and land, while the farmer takes on a 10-year agreement to run the farm, including putting up the finances for the welfare of the animals, machinery, and credit.
The farmer pays AP Pension fund a kind of rent of 5.2% of the amount invested in the land, and 6.5% of the amount invested in the buildings, and then retains the profits of the operation.
When the 10 years are up, the farmer has an option to buy the farm on terms that are already established.
"Danish agriculture is today one of the world's most efficient, and we see great potential in investment in agriculture," said Dal Thomsen.
"Our assessment is that in the current market is an attractive return relative to risk. We expect that the price of agricultural land resulting inflation, and when all is reckoned together and administrative costs deducted, it leaves us with a solid return, which we expect is on the right side of 7% before tax."
Data released by Aquila Capital in 2013 found 23% of European institutional investors are looking to increase their exposure to farmland over the next year, and a further 74% will maintain its current level.
Direct investments—as AP Pension has done—proved to be the most desirable model of investment over the past 10 years, with just 14% of investors saying they had been disappointed by the returns from their investment.
However, 57% said they were disappointed with the performance of closed-end funds, 42% felt the same way about specialist investment funds, and 29% with club deals.