'Karaturi has no business being in the flower industry'
Frans van den Houdt
"Karuturi Limited is one farm you can rightly refer to as the sick man of the flower industry, a grower that does almost everything contrary to the laid down codes of practice", says Catherine Riungu of Hortinews, a popular Kenyan website and magazine about national and international horticulture.
Riungu has seen it all happen in a period of less than a year: how the once thriving Karuturi flower farm in Naivasha deteriorated and became the ugly duck of the sector. Riungu: "The farm has no business anymore in the flower industry."
Steep decline
Karuturi Global Limited, with its headquarters in Bangalore, India, bought in 2008 Sher Agencies Ltd, a 154ha rose farm in Naivasha, from Peter and Gerrit Barnhoorn. Together with farms in Ethiopia (125 ha) and India (10 ha), Karuturi Global grows over 580 million roses a year. In 2012, 9 percent of the EU's imported roses came from this company.
But over the past year the production in Kenya has seen a steep decline. From the initial 1,2 million stems per day, production first went down to 500.000 stems, then to less than 50.000 per day, while at the moment hardly any flowers leave the farm. Because of unpaid bills, water and electricity have been cut and suppliers of packaging materials, fertilisers and chemicals have stopped their deliveries.
Workers took to the streets several times since last year December to claim unpaid salaries and protest unhealthy working conditions. The Kenya government earlier this year declared Karuturi guilty of tax evasion for not paying €8 million in income tax.
Many anomalies
Eunice Muthoni of Workers Right Watch (WRW) says the government should have intervened long time ago. "According to the Employment Act you can dissolve a firm when it doesn't pay salaries." WRW did an extensive survey on the working conditions at Karuturi and concluded that there were many anomalies, from poor protectionagainst chemicals and insufficient medical care to sexual abuse. "Domestic women workers who refuse to give sexual favours to the Asian managers are demoted from working in their houses or even lose their jobs", reads one of the findings.
The gender committee was side-lined, so when a woman reported a case of sexual harassment to the management, she immediately lost her job. Muthoni wonders whether the union has gone on holiday. "Workers have become so desperate that they even commit suicide." Recently a guy hanged himself near the gate of the rose farm, naked, he had not eaten for 7 days. "He didn't see any other way out", says Muthoni. But the man was rescued by his colleagues, and paid his dues by the management.
Leaving the other workers wondering. "Does this mean that we shall only get paid when we try to end our lives", says an angry Joseph, who has worked for Karuturi for many years. "We all have families to maintain, children to feed, why are we totally ignored? We have always worked very hard to make this company succeed and now they treat us like dirt. It's high time the government intervenes."
Empty promises
Francis Atwoli, secretary-general of the Kenya Plantation and Agricultural Workers Union (KPAWU) and also boss of the powerful umbrella body COTU (Central Organization of Trade Unions), strongly denies that the union is sleeping on the job. "We have put in a lot of effort to solve the problems at Karuturi, but the management has been very evasive and full of empty promises."
When CEO Ram Karuturi was in Kenya recently the KPAWU organized a meeting in Naivasha with all parties involved , but the CEO suddenly left for Nairobi. A day later the union met with other managers but nothing was resolved.
Atwoli however did meet with Karuturi in his office in Nairobi. "I had also called the member of parliament for Naivasha, so that we could get a strong commitment from Karuturi. But it all turned out a farce. He promised a lot, said he was getting money soon to solve all problems, but then left the country and didn't do anything."
Atwoli has since called on the authorities to arrest the Indian businessman as soon as he sets foot on Kenyan soil. ,,He should be stopped from further ruining this farm and taken to court for not paying workers."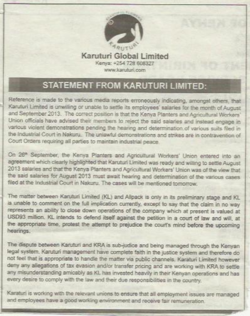 A few weeks ago Karuturi put an advert in Kenya's biggest newspaper Daily Nation to refute all allegations.
Court case
The union also joined a court case against Karuturi by Allpack Industries Limited, a Kenyan manufacturer of cartons and polythene bags, that is owned millions by the flower farm. The case was scheduled for 25th October, but postponed at the last minute, because for unknown reasons the Commercial Court of the Kenyan High Court did not sit that day.
"We want the judge to declare the company unable to fulfil its financial obligations and therefore should be put under receivership. Workers and suppliers should be paid and the farm sold." Atwoli believes the Indian owners are solely to blame for the misery. "They are not concerned about Kenya and its workforce. They only come here to make a lot of money and then go and invest it elsewhere."
KFC
The Kenya Flower Council (KFC) foresees huge implications for the country when Karuturi goes down. "Although Karuturi is not a member of KFC, they are a major player in the industry and whatever may happen to the company will have a negative impact on Kenya's export volumes, number of jobs and taxes paid to the government", said KFC secretary-general Jane Ngige.
Karaturi statement
A few weeks ago Karuturi put
an advert in Kenya's biggest newspaper Daily Nation
to refute all allegations. "Karuturi is working with the relevant unions to ensure that all employment issues are managed and employees have a good working environment and receive fair remuneration", concludes the statement.
Catherine Riungu says there are indications that relevant agencies that should watch over the conduct of companies like Karuturi have turned a blind eye because they were paid off by the management. Now, the farm should be sold to save Kenya's reputation as a reputable flower nation, says Riungu. "The sector thrives on reputation and if one company has systematically muddled its name, the best thing to do is close and leave the sector to those who understand that growing flowers responsibly is the only way Kenya can sustain the markets it has built over the past 30 years."
Since it has been extremely difficult to get a reaction from Karuturi itself, we refer in this article to
their advertisement in Kenya's Daily Nation of October 11th 2013
.
Full issue online: http://www.floraculture.eu/digizine/dec2013/magazine.html
or for download: http://www.floraculture.eu/digizine/dec2013/download/magazine.pdf