By Tadashi Sugiyama and Kotaro Ono| 13 January 2014
MAPUTO, Mozambique--Prime Minister Shinzo Abe is on a mission of business diplomacy in his current trip to Africa to secure valuable natural resources for Japan, as rival China also is making a major push into the world's second largest continent.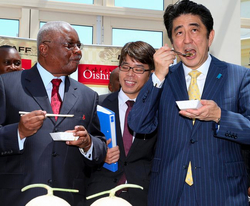 Mozambique President Armando Guebuza and Prime Minister Shinzo Abe sample Japanese food in Maputo on Jan. 12. (Shogo Koshida/Asahi Shimbun)
"Africa is the frontier for Japanese diplomacy," Abe said prior to leaving Japan.
Abe has stressed in the past that it is extremely important for Japan economically to incorporate the activity being generated in Africa.
His current visit to Mozambique, where he arrived Jan. 11, is considered paramount because Japan has high expectations for that nation.
A major reason is the discovery of some of the world's largest gas fields in the southeast African nation since around 2011. Estimated gas reserves have been set at 100 trillion cubic feet, which would represent more than 20 years of annual gas consumption in Japan.
Major trading company Mitsui & Co. obtained a 20-percent stake from Anadarko Petroleum Corp. of the United States. Plans call for the annual production of 10 million tons of liquefied natural gas in 2018.
"There is the possibility this could become the third major (LNG) center behind Qatar and Australia," said Taira Nozaki, general manager of Mitsui's office in Mozambique. "Diversifying the sources for energy will lead to a stable supply."
There are also plans for the development of agricultural lands.
A major program being promoted by Japan is the ProSAVANA project in northern Mozambique, which is designed to turn an area of about 11 million hectares into a major grain production site. The Japan International Cooperation Agency is working with Mozambique and Brazil on the project.
During a Jan. 12 meeting with Mozambique President Armando Guebuza, Abe announced a plan to provide about 70 billion yen ($676 million) in official development assistance until 2017 for the development of the Nacala corridor region that lies in northern coastal Mozambique. In addition to the natural resources in the region, there is also a plan to improve the social infrastructure around Nacala, which faces the Indian Ocean and is expected to play a major role as an export base.
A major reason for Japan's investment and agricultural land development are the moves being made by China.
According to AidData, a U.S. research organization, between 2000 and 2011, China invested $75 billion in Africa for various development projects. The money has gone not only into resources development, but also for the construction of roads and harbors, as well as in the fields of finance, retailing, education and medicine.
There are an estimated 1 million Chinese living in Africa, about 100 times more than the number of Japanese on the continent.
Chinese leaders have also visited Africa frequently. As Abe visits three nations in Africa, Chinese Foreign Minister Wang Yi also began a four-nation trip to Africa on Jan. 6.
However, experts warn against simply competing with China.
"Japan has gained a certain amount of goodwill in Africa with its history of assistance programs," said Sayaka Funada-Classen, an associate professor of African studies at the Tokyo University of Foreign Studies. "That appraisal will be thrown away if it only tries to do the same thing as China in a race to provide support."
Abe's visit to Mozambique is designed to turn the nation into a strategic base in Africa as Japan tries to counter China. A Foreign Ministry source said Mozambique "is a nation with the highest expectations for growth in the world."
Accompanying Abe are representatives of Japanese corporations from a wide range of sectors, including trading firms as well as companies in natural resources, social infrastructure, manufacturing, education and medicine.
Abe attended an investment forum in Maputo, the capital of Mozambique, and also arranged for the company representatives to meet with Guebuza.
Japan has been involved in Mozambique beyond business issues. The Self-Defense Forces were sent to a United Nations peacekeeping operation in Mozambique in 1993 after the end of a civil war.
Participating in peacekeeping missions by the SDF is a major example of the visionary pacifism based on international cooperation that Abe has stressed as a major pillar of his diplomacy.
Prior to visiting Mozambique, Abe stopped in Ivory Coast for a meeting with President Alassane Ouattara. The two issued a joint statement that included an agreement for Japan to provide about $7.7 million to help former soldiers who fought in the civil war there find civilian jobs, as well as to cooperate in social infrastructure construction.