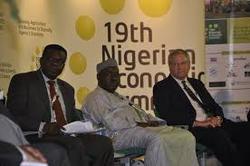 Calvin Burgess (right), CEO of Dominion Farms, at the 19th Nigerian Economic Summit in September 2013.
Premium Times | 3 January 2014
Nigeria: Landgrabbing for Nigeria's rice revolution
Peter Jopke
The North-Eastern Nigerian State of Taraba is on the verge of handing over 30,000 hectares of land to Dominion Farms. The Memorandum of Understanding of the public-private partnership was signed in February 2012. The mega-project is expected to reduce Nigerian rice imports by 15%. But what is been described as the prelude to Nigeria's rice revolution could result in livelihood losses for about 45,000 inhabitants who will have to vacate their lands. This intervention also raises concerns about the depletion of an important grazing area: Mutum Biyu Gassol Local Government Area of Taraba State, where the land being given to Dominion is located, is said to metamorphose into a "Lagos of Cows" during the Harmattan season.
Taraba/Gassol, Mutum Biyu L.G.A. - Dominion Rice Farms and Integrated Ltd. aiming to cultivate and process mainly rice on an area of 30,000 hectares has taken off by importing equipment and establishing an administration at the site. The company is expected to reduce Nigeria's rice imports by 15%, thereby creating 15,000 jobs. The Taraba State government promises to build a school, a hospital and a road that connects the area of Gassol with the highway between Wukari and Jalingo. There are also plans to reactivate existing silos and Gassol's water treatment plant. The rosy picture of progress arriving in Gassol further includes talks to supply the community with electricity from a hydro power plant that Dominion intends to build. Only 10% of the farm is going to be turned to a plantation and the remaining land is meant to be given out to locals participating in a contract farming scheme - a term suggesting socially inclusive development.

Local rice farm in Gassol
The fertile land at the edge of the Rivers Benue and Taraba is reported to have "laid fallow for decades" and to "belong to the Federal Government" by a Lagos based daily. A visit on the ground revealed that the land is inhabited and farmed by indigenous people who claim ownership of the land through customary rights. Nevertheless, the His Royal Highness, Alhaji Idris Chiroma, Lamido Gassol, who is the custodian of the land agreed to the handover.
In May 2012 a land acquisition notice - oddly marked "secret" - directed affected land property owners to take part in an assessment for compensation. As a result, about 3,000 holders of land titles were identified. However, according to Chief Alhaji Idris Chiroma, the area contains up to 45,000 inhabitants.
Entering the designated Dominion land, one can see some large swathes of green rice fields developed by the Upper Benue River Basin Development Authority and then given out to locals, a signature of indigenous enterprise.
The "Dominion Land" was spotlighted before
In 1982, the Upper Benue River Development Authority* identified 38,000 ha of available irrigable land in Mutumbiyu Gassol Local Government Area
The authority could only acquire and develop 3,000 ha for rain-fed farming
The fields assigned to local farmers will be handed over to Dominion Farms
Thousands of Fishermen earn a living from numerous "fish ponds" - relict structures of an attempted irrigation scheme
* Agency of the Federal Ministry of Water Resources
"The land in the front was already developed. All the land in the back still has to be cleared and channelled because it is marshland that partially experiences seasonal flooding," a Nigerian staff member of Dominion explains, "Next year February we will start cultivating the first portion."
Only a small area has been occupied by Dominion so far. With its seven tractors and a handful of staff at the site, it requires fantasy to imagine that only an area of 42,000 football fields is planned to be cultivated here.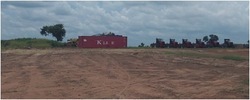 First signs of activity: tractors have arrived at the Dominion site
After PR: Nigerian Trainees dropped off
Details of the public private partnership are contained in the memorandum of understanding signed between the federal government and the state government of Taraba and Dominion in 2012. The attempt to get a copy of the file at the State Ministry of Agriculture proved abortive. However, in February last year the company realized its commitment to train 50 Nigerians at its farm in Kenya. Before their departure, the trainees coming from Gassol and other parts of Taraba made a "once in a life time experience":
"On the last night before our travel to Kenya, we were invited to the Hilton Hotel in Abuja," one of the trainees recalls, "There were a lot of dignitaries such as Calvin Burgess, the ambassador of the USA, former president Olusegun Obasanjo, the Federal Ministers of Agriculture, and Finance and the media of course. The signing of the Memorandum of Understanding was the reason for the celebration."
The trainees had learned a lot during the training program. Back in Nigeria, they got disillusioned: "When we came back there was no representative in Abuja to welcome us. They promised us a take-off allowance, but on our return we haven't got anything. Some of us even quit their job and cannot resume."
Since then, there hasn't been any contact with the company. Hence, most of them have gone back to their farms. A staff of Dominion assured that the trainees would be engaged as soon as the cultivation takes off. While this disappointing turn of events remains a source of pain and frustration, the annoyance of the trainees is further accentuated. Upon return, a number found out they had been infected by one disease or the other.
"Almost all of us found themselves in sickbeds when we came back from Kenya. Our parents spent a lot of money on our treatment."
One of the trainees with the dark patches on his face says that he noticed the symptoms after he came back from Kenya. He received a special training in the usage of chemicals just like a next trainee who appears very skinny.
"I was among those who specialized in the use of chemicals for agriculture. Now my doctor says that I suffer from hepatitis B, which was probably worsened by the fact that I was inhaling chemicals. I don't know what specific kind of chemicals I was working with."
Their statements reveal a frightening connection to earlier media reports from Kenya.
Nigerian Authorities unaware of Dominion's bad Records in Kenya
About nine years ago, the American Calvin Burgess founded his first branch of Dominion Farms in Kenya. He acquired 7,000 hectares of marshy land at the Yala Swamp to start his new business. Looking forward to a better future, the locals welcomed the investment. Seven years later, Kenyan media reported a disastrous outcome for them:
"They came with promises and we supported the project, hoping it would change our lives, but now they have turned against us, destroying our very sources of livelihoods," said Fred Okumu, a local community leader, according to the Kenyan newspaper Reject. Locals claim that their livestock die from polluted water. Women cry out about increasing miscarriages, most likely due to the after effects of pollutants. Reject refers to a water sample containing a high yield of pollutants and suggests that it results from Dominion's usage of chemicals such as the aerial spraying of pesticides and herbicides. In her article "Kenya: Yala Swamp on Death Bed" the journalist Mary Mwendwa reports that people tend to become sick even if they boil the water before consumption. The level of pollution is so high that people could not even keep poultry anymore.
Additionally, Reject reports that members of the local community complain that the farm management has blocked water or diverted some canals causing water to flood their farms and destroy crops. This they lamented has further impoverished them.
Back to Nigeria: Ifraim I. Kifasi, Permanent Secretary of Taraba's State Ministry of Agriculture assured that those experiences in Kenya will not become reality in Nigeria. According to him, he wasn't aware of the issue before. The realities in the Nigerian context forewarn of similar environmental challenges, especially as the ministries of environment and water resources seem to have been excluded at a certain stage of the project design.
"There hasn't been any environmental impact assessment on Dominion Farms and we received no order to undertake one", a senior official of the State Ministry of Environment said. In fact, it is against the law. He explains that order was given at the 7th Executive Council meeting of Taraba state government that all organizations or companies that wish to undertake a project of this magnitude must summit an environmental impact assessment to the Ministry of Environment.
Alh. Aliyu Jijjiwa, Executive Director of the Upper Benue River Basin Development Authority welcomes the agricultural investment, but at the same times warns: "The usage of chemicals in this area bordered by two rivers is dangerous [...] In that case, you must use what you have most" - referring to the high supply of cheap labour to do weeding by hand.
"Lagos of Cows" closed down
Gassol is a heaven for cattle. During Harmatan, their herds arrive to graze and drink from the waterholes. Their herdsmen become temporary citizens of the local government area. What will happen when the state government fulfil its promise and put up a fence around the area that has been occupied by herdsmen year after year from time immemorial?
According to His Highness, Ardo Guruza, Mutum Biyu, the land acquisition by Dominion Farms will "affect their livelihoods significantly". Open grazing routes are needed to avoid problems deriving from cattle entering farmland.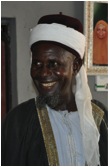 Nomad Chief Ardo Guruza
"I am informing you; in Nigeria we don't have a place that we can call our own, especially in Taraba and Gassol. We are extending our cries to the government to look into this topic with compassion. Help us, so we also have a sense of belonging as other Nigerians. We really know we are Nigerians, but the way it seems to us is that government treats as non-citizens. We want the government to know that we are proud to be Nigerian citizens. Whatever has been done in Nigeria should also be extended to us. The cattle routes should be open because that causes the problem between cattle graziers and farmers."
His Highness, Ardo Guruza, Mutum Biyu
"The demarcation of grazing routes is totally absent in this local government and even in the whole of Taraba State," says Muhammed A. Musansani, General Secretary of the Gassol Local Government Cattle Graziers Association, "Our cattle are not moving freely on designated areas. As a result, it leads to conflicts between the herdsmen and the farmers."
Nomads are not part of any compensation scheme and were apparently excluded from the planning of the project. Dominion's land acquisition symbolizes Nigeria's depletion of grazing areas in times of rapid population growth. Chief Ardo Guruza sees the future of his people in settling down at one place:
"If everybody is allocated to his own portion of land and is shown the proper way of planting grass that our cattle will dwell on, what will stop us from staying in that place?"
Therefore, he explains that governmental support is required, especially in the educational sector.
"We used to have nomadic schools, but currently, they are not functioning as well as they are supposed to be. We are pleading to the government to rededicate itself to the education of our children, so that they can be enlightened and move forward."
But next Harmatan the herdsmen might face already a fence and their accustomed path will be blocked.
Displaced trapped in Poverty?
It certainly looks as if there is no plan and no designated settlement area for possible displaced indigenous people. At least, a senior official of the State Ministry of Lands and Surveys didn't give a categorical answer on it. Definitely, a monetary compensation would be paid.
A director of the State Ministry of Agriculture reveals that "compensation is the major problem for the government to finally hand over the land to Dominion". Already, there have been complains because people vacated without receiving any money. "All together, it is a quite substantial amount, so you cannot pay it over night," he explains. Especially the value of numerous fish ponds contribute to the amount of compensation to be paid.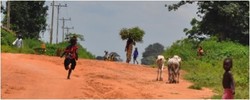 To be constructed: The road from Mutumbiyu to Gassol
However, once a farmer's land or a fisherman's water is grabbed, their livelihood is destroyed if they cannot replace it. Families might be forced to rent pieces of land, even though they receive their payment in time. Money has to be sufficient to acquire new land of the same size and quality. The sudden increase of demand may also increase its price.
Chief Alhaji Idris Chiroma sees no problem in that. According to him, there is a large area beyond the Dominion land where they would be able to relocate - even though there are settlements already. But quite foreseeable, grazing land in surrounding areas is going to be farmed by displaced communities of the Dominion land. By the time, the company has occupied its complete parcel of land, conflicts between farmers and herdsmen are expected to heat up. That is why it is important to note that there are nomads willing to settle down which would have been an opportunity for the government to ease the strain on land and thereby prevent conflicts.
Future will tell if displaced and landless indigenous people trying to feed their families will have no other option than to work for Dominion. In that case, the proposed contract farming scheme could turn out to be rather exploitive instead of tackling poverty. Anyways, it is doubtable if the work of a farmer in a highly mechanized contract farming scheme is going to differ from the one of a usual plantation worker.
According to journalist Mary Mwendwa
, Dominion Farms in Kenya employs women largely as casual laborers with an average wage of 1.82 dollars per day.
One of the trainees put it like this: "In Kenya, we saw the people working for Dominion. They live in poverty." At least it is getting a little bit better now, since they have managed to organise themselves.
Finally, the benefit for the citizens of Gassol strongly depends on the realization of promised development actions of the state government. So far, only the construction of the road has finally begun - under pressure from Dominion Farms.
Peter Jopke has just completed an internship from Germany and he was focused on development issues of land justice and related issue.