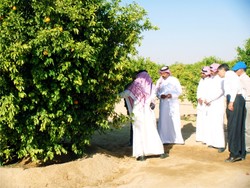 Arab News | 30.12.2013
Overseas farm projects to be insured
The Agricultural Development Fund, the Islamic Development Bank (IDB) and the Arab Authority for Agricultural Investment & Development are holding talks to provide insurance on the agricultural projects being funded by King Abdullah's Initiative for Saudi Agricultural Investment Abroad, Abdullah Al-Awain, director general of the fund, said recently.
Al-Awain said the fund seeks to serve the initiative by safeguarding the investments, minimizing the risks that these investments may face and maintain the rights of the fund itself.
"We also aim to increase the chances for their success and maximize the revenues projected, in addition to realizing the aspirations of the initiative and its purposes and objectives," he added.
He pointed to the difficulties that investors might face aboard, saying: "The risks involved in the agricultural activity are always high, and the regulations of the countries where investments take place are difficult, not to mention the terms and conditions for export in these countries."