Anywaa Survival Organisation (ASO) | 20 December 2013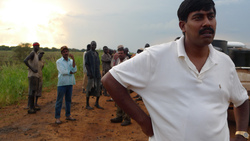 Karuturi Global CEO Sai Ramakrishna Karuturi at his farm in Gambela. Local sources report that the company's farm was recently shut down. (Photo: Planète à vendre)
Press Release
Authorities in the Gambela region of Ethiopia are investigating Karuturi Global and other farmland grabbers for criminal activities
Contact:
Nyikaw Ochalla, Director,
Anywaa Survival Organisation-ASO (UK)
Tel: +44 (0)7939389796
E-mail: [email protected]
Sources within the regional government of Gambela have confirmed to Anywaa Survival Organisation (ASO) that several foreign and national investors with large agricultural leases are being investigated for illegal activities, including corruption, environmental destruction, and failure to uphold the terms of their contracts. The companies being investigated include India based Karuturi Global, which acquired a 300,000 ha lease in 2008, and Saudi Star Company of Saudi Arabia, which acquired a 10,000 ha lease in 2009.
Gambela region is a tiny enclave in the south of Ethiopia, bordering South Sudan, with an estimated population of 300,000. It is a linguistically, ethnically and culturally distinct region with abundant water reserves, biodiversity, and fertile farmlands. The area is a potential food basket for drought and famine stricken Ethiopia, the second most populous country in the Horn of Africa. More than 90 percent of the people of Gambela live in rural areas and depend on small scale farming, hunting, fishing and pastoralism. For such traditional communities, the value of land and access to natural environment is immeasurable.
Since the financial crisis and food price hikes of 2007/08, national investors, multinational corporations and wealthy nations have been acquiring hundreds of thousands of hectares of lands in Gambela for farming. According to the regional investment office, 341 national and foreign investors have acquired commercial farming investment licenses to produce a variety of crops mainly for export purposes.
One of the first and most controversial agricultural land deals was signed with the Bangalore based company Karuturi Global to produce palm oil, cereals and pulses along the Openo (Baro) river. In 2008, Karuturi acquired a 99 year lease for 100,000 ha in Itang and Jokau districts, with an option for a further 200,000 ha if the company succeeded in developing the first lease area. Karuturi has been unable to come close to developing the first 100,000 ha of land, yet nevertheless the company has illegally cleared the entire 300,000 ha, causing serious destruction to locally protected trees, holy sites, and wild animals and destroying local construction materials and blocking water passage routes. The indigenous Anywaa (Anuak) community along the Openo river have been seriously impacted by the increased flooding caused by the company's farming practices, which destroyed their crops and grazing lands.
The Saudi Star Company, belonging to Saudi business tycoon Al Amoudi, with close ties to the Ethiopian ruling party and former Ethiopian Prime Minister Meles Zenawi, entered into a land deal agreement with the Abwobo (Abobo) district administration in 2009 to develop 10,000 hectares of land for rice production. The contract required that the company contribute to essential infrastructure development in the district. The company, however, has failed to fulfil its infrastructure development obligations.
Another Indian Company, Verdanta Harvests PLC, entered into a land deal agreement in 2010 to develop a tea plantation on 3,012 ha in Godare district. The district contains the densest forest in the Gambela region. Former Ethiopian president, Girma Wolde Giorgious, criticised the deal for not providing sustainable development or protecting the environment.
The Gambela regional government is now investigating these three foreign investors and some other national investors for criminal activities committed during the course of their operations, as well as environmental destruction and the destruction of people's livelihoods that their operations have caused. The regional government is also reported to have completed an investigation and evaluation of the companies' performances to assess whether to continue with the terms of the contracts or not. Sources within the government have told ASO that the initial findings favour revoking their licenses.
Earlier this year, Karuturi was
convicted of tax evasion
by the Kenya Revenue Authority due to transfer pricing within its cut flower operations. The company's flower farms in Naivasha, Kenya have not been operating for several months now, and workers have been protesting over unpaid wages. Investigations by ASO show that Karuturi's flower farms in Oromia, Ethiopia, and its farm in Gambela have also ceased operations, and it appears that Karuturi has even removed its tractors and other farm machinery from its Gambela farm. This suggests that the company may be in serious financial difficulty.
The rice producing Saudi Star Company in Gambela is also being investigated for corruption and what an ASO source describes as "illegal" activities. This confirms our findings in the interviews ASO conducted with affected, refugee communities in Kenya earlier this year. One source from the community who asked to remain anonymous told ASO of the level of corruption within the Company and the heavy presence of Ethiopian military forces guarding the company operations.
In April 2012, an unidentified group attacked the Saudi Star Company's Gambela operations. The Ethiopian defence forces responded with a heavy hand, killing several innocent civilians of Pokedi village, along Alworo River. The action cast serious doubts on the motives of the "development" programme, the claims about the community's active participation and the supposed transparency of the project. Saudi Star Company is reported to have displaced the communities of Perbongo and Pokedi villages. The local communities were displaced to settlement sites lacking adequate social and economic infrastructure, where they were allocated only small garden plots to plant food, which cannot support households, making them dependent on humanitarian food aid.
Although less attention has been given to national investors, perhaps due to the smaller size of the land leases and value of the projects, recent investigations by regional authorities reveal an alarming level of destruction, corruption and illegal activities by national investors, with catastrophic effects on the environment and community livelihoods. As more details continue to emerge, ASO is convinced that national investors have equally contributed to evictions, displacement, the restriction of free movement for local communities, the destruction of the natural environment and to the marginalisation of local people.
In one recent case, a national investor entered into an agreement to acquire development rights for 700 ha. But it was then discovered by regional authorities that the investor had taken and cleared 7,000 ha. The lands illegally grabbed by the national investor belong to local communities who used them for farming and other essential activities. This national investor took lands between the Abol and Itang villages along the Openo River without permission from the authorities and destroyed livelihoods of the local Opaanya. The authorities are pursuing this land grab case, with support from ASO.
All these reports from Gambela confirm our readings on land deals as land grabbing in all its manifestations. The feared impacts on local people are occurring, despite government claims that national and foreign investment contributes to development and food security and its utter denial of land grabbing in Ethiopia.
ASO supports the recent regional government efforts and urges authorities to give further support to those officials responsible to facilitate and collect evidence to pursue legal actions against those accused of corruption, the destruction of livelihoods, and damages to the environment and wildlife. We seek to hold those responsible for forced evictions, displacement, human rights abuses, damages to the environment and the restriction of free movement of the communities to account for their actions.
ASO further calls for an immediate end to land grabs and demands that the companies and government compensate indigenous communities for the loss of livelihoods and the damage caused to the natural environment and ecological balance, and respect and restore the communities' land rights. The government should reformulate "development" plans with the active participation of the affected communities. We are convinced these current revelations are not isolated cases, as indicated in this quote from a Gambela resident who wishes to remain anonymous:
"Land grabs has been depriving local people of vital livelihoods. The terms of the contracts have not been strictly followed. Companies are illegally encroaching on local people's farmlands without knowledge of authorities and local people. Illegal activities have been taking place in all forms. It is criminal and should be investigated to bring those responsible to justice."
For more information contact:
Nyikaw Ochalla
Director,
Anywaa Survival Organisation-ASO
35-39 London Street, Reading, Berkshire,
RG1 4PS
Tel: +44 (0)7939389796
E-mail:
[email protected]