World Bulletin | 4 Deccember 2013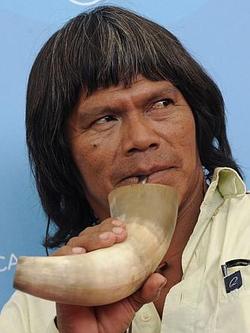 Brazilian indigenous leader murdered
A Brazilian indigenous leader who spent decades campaigning for his tribe's right to live on their ancestral land was murdered on Sunday night, Survival International said Tuesday.
The human rights organization said that Ambrósio Vilhalva was reportedly stabbed at the entrance to his community, known as Guyra Roká, in Brazil's Mato Grosso do Sul state, and was found dead in his hut, with multiple knife wounds.
Ambrósio had been reported being repeatedly threatened in recent months.
Bloody land conflicts are common in Brazil, which is struggling to reconcile the demands of a growing economy and powerful agribusiness interests with the need to preserve the culture of indigenous populations, as well as the forests and savannahs in which they live. Another member of the Guarani, Celso Rodrigues, 42, was shot dead in June while walking in an area disputed between the tribe and cattle ranchers.
Just days ago, Brazil said it was sending a military task force to areas disputed by a different indigenous group, the Terena, and farmers in the western part of Mato Grosso do Sul state. A Terena man was killed in as a result of clashes with the police in May.
Last year, murders over land and environmental disputes increased by more than ten percent, to a total of 32 deaths, according to land rights watchdog the Pastoral Land Commission. From 2000 to 2012, 458 people were murdered in violent land disputes throughout the country.
Partly to blame for disputes like these, experts say, is the enormously unequal distribution of land in Brazil. Vast landowners who farm cash crops like sugar cane and coffee dominate Brazil's farming industry. Thinktank CEBRAP calculated that more than half Brazil's arable land belongs to only 2.5% of the population.
These wealthy landowners yield hefty political power, and are often directly involved in politics themselves. Part of the land that was disputed by 
murdered Ambrósio was rented out for sugar cane cultivation by José Teixeira, a state deputy, Survival International has said, adding that the government has already declared that this land belongs to the Guarani Indians.
At the other end of the scale exist some 3.7 million small-holdings which barely survive, producing no more than two minimum wages per farm. Millions more rural workers on the poverty land own no land, and are forced to work for below minimum wage in terrible conditions.
Ambrósio starred in the film Birdwatchers, about the Guarani's struggle for their land. According to Survival, the Guarani of Guyra Roká were evicted from their land by ranchers decades ago and lived on the roadside for years afterwards. In 2007 they were able to re-occupy a small fraction of their ancestral land, but most of it has been cleared for sugar cane plantations, from which foreign companies, including US food giant Bunge, source sugarcane.
Ambrósio had said, 'This is what I most hope for: land and justice… We will live on our ancestral land; we will not give up'.
Ambrósio had been a visible opponent to the cultivation of sugar cane on his community's land, and against Raízen, a joint venture between Shell and Cosan which had planned to use the sugar cane for biofuel production. Following a campaign by Survival International and Ambrósio's community, Raizen agreed in June not to buy sugar cane grown on indigenous lands.
A Guarani spokesman said, 'Ambrósio fought hard against the sugar cane. He was one of our main leaders, always at the forefront of our struggle, so he was being threatened. He was an extremely important figure in the Guarani land campaign, and now, we've lost him'.
Mato Grosso do Sul civil police could not be reached for comment but Survival reported that the police are investigating the killing and two suspects have been detained.
"The Guarani have one of the highest murder rates in the world and land theft is at the heart of all the violence. In spite of this, the land demarcation process is stalling – the authorities are doing far too little to challenge ranchers who have taken the tribe's ancestral land," Survival's Director, Stephen Corry, said Tuesday. "How many more gruesome killings must the Guarani suffer before their territory is mapped out and protected?"
A few days before this latest killing, Brazil's National Conference of Bishops urged the Brazilian government to recognize the land rights of the indigenous.
"We believe that the solution to this situation necessarily involves the recognition of the historical and constitutional rights of indigenous peoples over their traditional lands," the bishops said in a statement last week.
"Federal agencies responsible for issuing land titles … must take responsibility for the political-administrative mistake they made and compensate farmers who acquired and paid for the land in good faith," they added.
Survival International: Ambrósio Vilhalva 1960 - 2013