ASO | 26 November 2013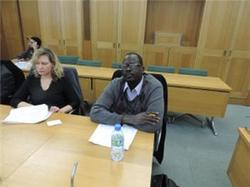 Nyikaw Ochalla of ASO at the human rights in Ethiopia meeting at APPG, London.
Land grabbing and forced evictions in Ethiopia
by Nyikaw Ochalla, Anywaa Survival Organisation (ASO)
Presentation at the All-Party Parliamentary Group on Third World Solidarity-UK
It is worth mentioning that, while the world continues to support the Ethiopian regime both financially and materially, Ethiopian authorities continue to repress, intimidate, harass, murder, torture and restrict freedom of movement of politically and numerically marginalised communities in the southern part of the country in the name of development. Land grabbing policy is destroying indigenous community livelihoods and natural environment in Gambela, lower Omo valley, Benishangul and Oromia regions.
In light of what is taking place in Ethiopia where large portion of pastoralists and indigenous communities are displaced and evicted from their traditional lands and wide spread gross human rights abuses, history is repeating itself. For those with kin interest in Ethiopian history one would have noted and perhaps surprised if not appalled by human rights abuses committed during Abyssinian expansion in the south. Innocent civilians were enslaved, and their homelands depopulated in the southern parts of the country.
Today, when the current generations and those grieved by appalling human rights tragedies and inhumane treatments committed against their ancestors, another web of human right abuses driven by economic development-land grabbing in the southern parts denies communities vital survival means and the government continue to dispossess them from economic sources. The end result of these ugly crimes committed during brought day light under the watch of international community and by government that supposed to protect the indigenous communities and pastoralist is destroying various communities' livelihoods and self-esteem.
Yet, international community continue to support the regime and large sum of money is being channeled to the most brutal regime in Ethiopia. Thousands remote areas communities are displaced, evicted and forced into exile with little indication to halt the process. In Gambela where 42% of fertile areas are leased to foreign and national investors, 73% of marginalised communities are destined to government involuntary settlement sites. This is a continuation of human tragedies and policies to annihilate indigenous communities from their traditional homelands.
About 10 (ten) years ago, the Ethiopian armed forces in uniform and some Ethiopian highland traders, civil servants and unemployed Ethiopian highlanders in Gambela town committed worse human rights atrocities. In just three days, about 500 innocent civilians were murdered, raped, burnt alive in front of young children and their belongings looted and destroyed. The act was genocide in all its forms and genocide definition as it targeted only one culturally and linguistically ethnic community in Gambela-Anywaa (or Anuak) community. So far the government failed to serve victims' families apology, render compensation, and there has been no legal redress to bring perpetrators to justice and control ever growing tension in the region. It has neither addressed the root causes that led to such horrible and appalling human rights atrocities.
Despite various reports and ample evidence little has been done to hold Ethiopian authorities accountable for human rights atrocities in Gambela and other areas in Ethiopia. The international community including one of largest donors- UK government has remained silent to criticise it allies in the troubled region of Horn of Africa. The international community continues to do business as usual by increasing the support to the most tyrant regime in Ethiopian history.
In the recent years, the support UK government and other donor agencies provide to Ethiopian authorities to deliver basic services became a controversial subject with the UK government accused of supporting Ethiopian government's villagisation (involuntary settlement) programme that evicts the most marginalised communities in Gambela, lower Omo and Oromia and Benishangul regions in the Southern part of Ethiopia. Such a passive stands by international community and donor agencies including the World Bank is key concerns to affected communities.
On behalf of those people without voice in the remote part of Ethiopia, the challenge they face every day and lack of ability to raise their concerns to authorities in Addis Ababa and local administrations, I appealed and urged the UK, USA, EU and other peace loving nations to hold Ethiopian government accountable for human rights atrocities it continues to commit against indigenous communities and pastoralists.
By doing this, it is an indication that the international community means business when talking about promoting and protecting fundamental human rights and good governance at world stage. Their role would go well in history without ignoring genuine signals of grave human rights abuses and genocide committed by authorities. The UK government and other state parties dealing with Ethiopian regime could play key role to protect innocent citizens and hold Ethiopian authorities accountable for gross human rights abuses.
The marginalised communities need UK and other governments' immediate attention and support to protect their livelihoods and natural environment.
I thank you.
Comments to
[email protected]